apollo
Sauta tuning.
This song dates from the time of the Apollo moon landings, from which it takes its name, but the content is devoted more to the subject of young women, as is typical of many modern songs. The instrumental part is derived from the traditional song Sori, for Samori Turay, the last Mandinka king to surrender to the French in the late nineteenth century. Some of the words, provided by Suso, are as follows:
| | |
| --- | --- |
| Ah, dindin ka nyin, Apollo | Ah, the young woman (lit. "child") is beautiful, Apollo |
| Dinding kunsinyi ka nyin, Apollo | The woman has beautiful hair, Apollo |
| Dindin kan fala ka jan, Apollo | She has a beautiful long neck, Apollo |
| Dindin nyin kese ka ge, Apollo | She has lovely white teeth, Apollo |
Spoken interjections in French can also be heard:
C'est ça? Oui! (Is that so? Yes!)
Jessup, Lynne. 1983. The Mandinka Balafon: An Introduction with Notation for Teaching. La Mesa, Calif.: Xylo.
Donkilo (on teaching tape)
Related Information
"Apollo" was introduced to Gambian jalis about fifteen years ago via Radio Mali, and is therefore not the domain of any particular instrument, but is played on the guitar, flute, and kora as well as the balafon. It commemorates the Apollo moon landings, although the song topic features a young girl, a typical subject for modern songs.
As with some of the other songs in this collection, "Apollo" is a development of another song, in this case, "Ala L'a Ke" and has been further changed into "Alhaji Badinding Singate," by Maudo Suso, who wished to honor his patron Singate, who is the alkalo (village head) of Fodekunda in the Wuli district of The Gambia. For comparative purposes, all three songs are included on the listening tape, in the order in which they were composed.
pp. 146–59 (Appendix 2: Balafon Repertoire)
| | |
| --- | --- |
| Title | Apollo |
| Translation: | Apollo II |
| Dedication: | space flight |
| Notes: | dev. From Ala L'a Ke, dev. By Mawdo Suso into "Alhaji B. Singate" |
| Calling in Life: | Modern Subject |
| Original Instrument: | all |
| Region of Origin: | Radio |
| Date of Origin: | L (after WWII) |
| Sources: | 1, 5 (Jessup & Sanyang, M. Suso) |
Sacko, Ousmane. 1987. La nuit des griots. Recorded 1983. Ocora/Harmonia Mundi, HM CD83.
Apollo was one of the most popular kora tunes in the 1970s, though now it is regarded by some jalis as "out of fashion". The name Apollo was taken from the Apollo space mission, which created an enormous impact in Islamic west Africa because it was widely believed from a statement in the Qu'ran that man would never set foot on the moon. The song is addressed to any esteemed person or to a loved one.
"Cisse, thank you. You have everything: popularity, attractiveness, intelligence, a beatiful [sic] wife. Pierre Toureille, not many are your equal. Kingship and warfare have gone well for you. It's not easy to own musician... [sic] a person who knows nothing cannot know you. Always work for yourself; if you do good deeds, they will reflect well on you; if you do bad deeds, this will also reflect on no one but you!"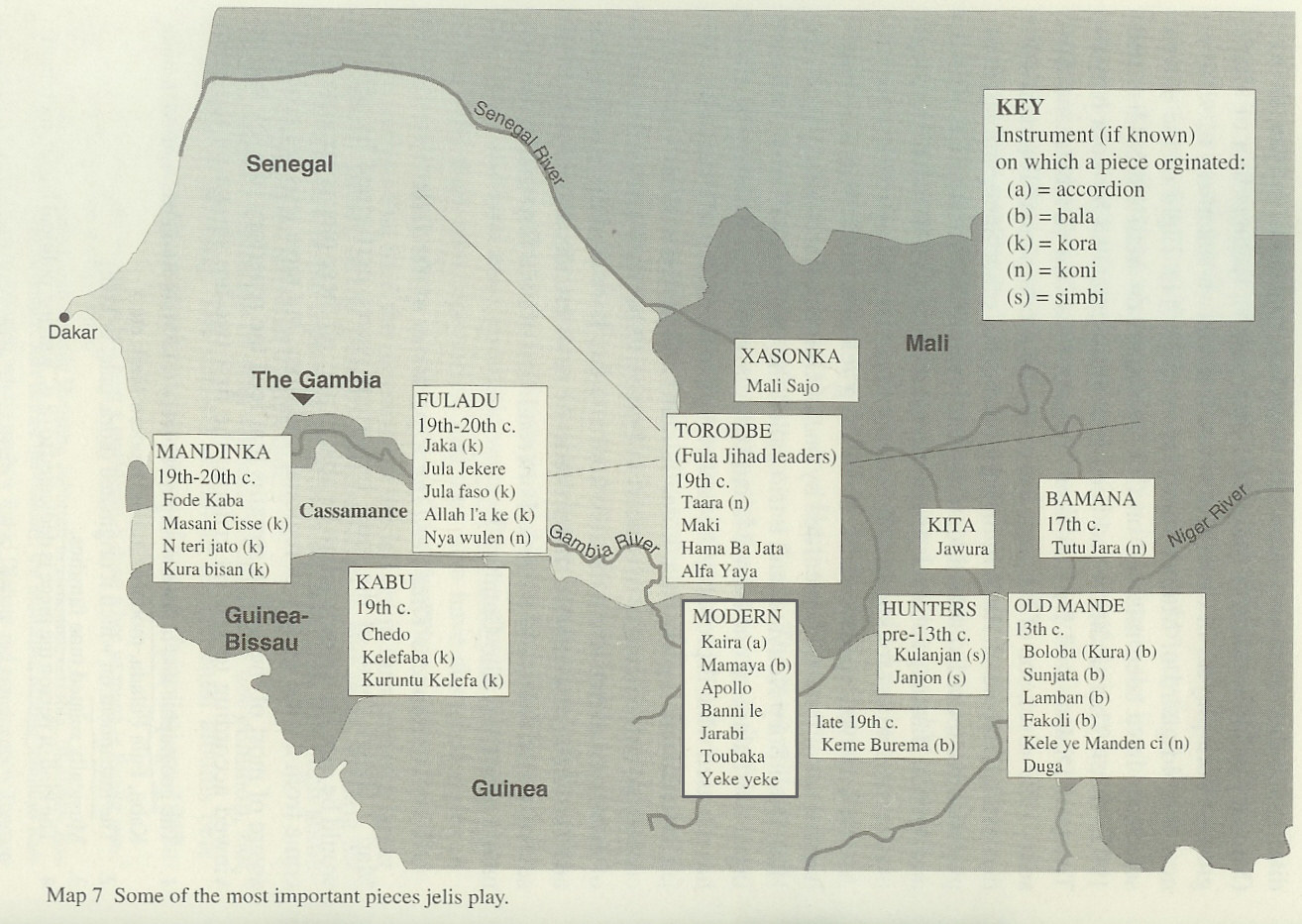 Some modern pieces that probably developed on the guitar, such as Apollo, Jarabi, and Tubaka, have also entered the repertory of the jeli, and the guitar has absorbed virtually the whole of the jeli's repertory, being accepted since at least the 1950s as a bona fide jeli's instrument.
Some pieces with more modern themes not dedicated to any leaders in particular, such as Apollo or Jimbasengo, are considered lighter, youth music. Amadu Bansang Jobarteh, whose repertory leans heavily toward older pieces from Mali, does not play Jimbasengo because he considers it light and for young people. By the same token, some younger kora players do not fare well with the older, serious pieces that Jobarteh favors.
pp. 266–68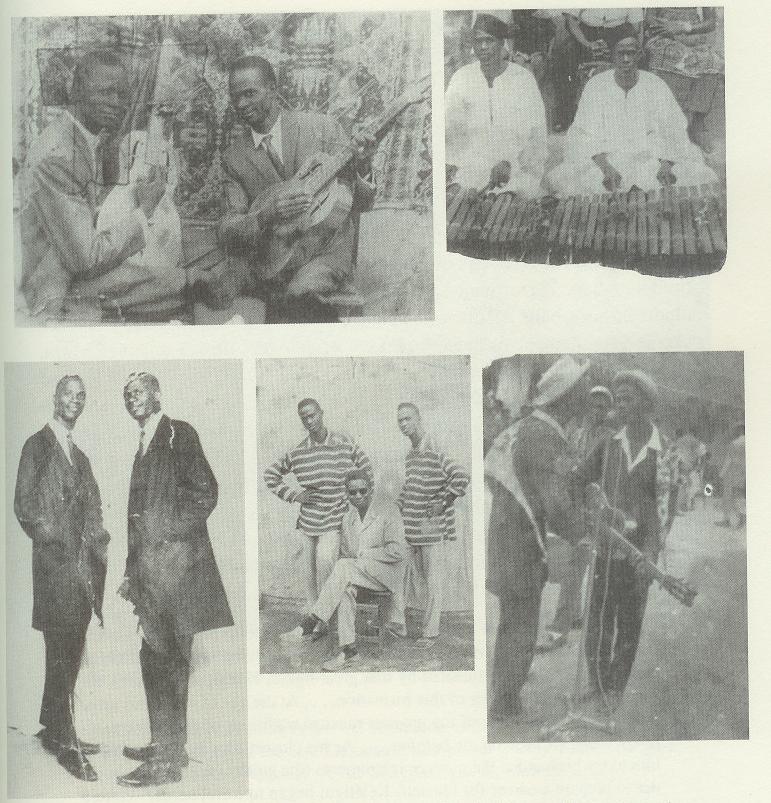 Perhaps the most crucial (and undocumented) grassroots development in Malian music during the 1960s was the growth of Apollos, popular dance events featuring groups having congas, Western drum sets, bass guitars, and electric guitars, all amplified by a sound system. The movement centered on a famous family of jelis in the Lafiabougou section of Bamako, featuring the twins Fousseni and Lansana Diabate, known as Lafiabougou Filani or Jumeaux de Lafiabougou (Lafiabougou Twins). Born in Niagassola, Guinea, home of the ancestral Sosso bala (see chapter 3), the Lafiabougou Twins embodied both the old and the new; they grew up playing the bala and also embraced the guitar (plates 1 and 43). Their use of electric instruments brought the jeli tradition in line with modern urban Bamako life. As they played for traditional events such as naming ceremonies and marriages, the new electrified sound ultimately made its way into the more urbane hotel orchestras that featured brass sections. The Apollo space missions symbolized the modern world, and the Bamako events named after them were equally viewed as "modern" (Bamba and Prévost 1996: 175–76) and "progressive" (Mory Kante, in Durán 1998: 45).
Apollos may have grown out of elaborate Bamako marriage celebrations popular in the early 1960s called Ambiance. Meillassoux (1968b:107–12) described an association of over eighty-one people registered under the name of jeli ton (jeli association) in 1956, which in 1963 changed its name to Association des Artistes du Mali, l'Ambiance, with more than three hundred members. Performances at Ambiance events included an orchestra including a kora, bala, jeli dundun, tama, and electric guitars. These Ambiance events may themselves have grown out of an event from Kankan, Guinea, called Mamaya that was popular there from the 1930s to 1950s (Kaba and Charry, forthcoming). Although the term Apollo might not have been applied to the new Bamako genre until at least 1967, it was brewing throughout the 1960s.27 Notes to a Horoya Band (1971-disc) 45 rpm recording of the tune Apollo released about 1971 refer to it as "at present all the rage to dance in Guinea" ("Apollo est en ce moment la grande fureur a danser en Guinée"). The tune Apollo is now a standard in the repertory of many jelis.
27. The Apollo program to land on the moon was announced in 1961, but the first significant notice in Africa of an Apollo spacecraft may have been a January 1967 ground test that killed the three astronauts inside Apollo I, delaying the program until October 1968 when the first manned Apollo flight was launched, circling the earth. In December 1968 Apollo 8 circled the moon, and in July 1969 the famous Apollo II landed on the moon. Sekouba "Bambino" Diabate (in Durán 1997: 43), from Siguiri, Guinea, believes that the piece Apollo was composed by his mother, Jeli Marayam Samoura, who settled in Bamako after remarrying, to a Malian guitarist, Wusu Diabate.
This piece, also known as "Apollo," was suggested by Famoro. It features the players exchanging solos in a musical caroussel.