maki
Ministère de l'information du Mali. 1971. Première anthologie de la musique malienne: 6. Fanta Damba: La tradition épique. Barenreiter Musicaphon, BM 30L 2506.
A traditional song dedicated to the memory of Maki, the son of El Hadji Omar (Omar al-Haj), who disappeared at Degenbere together with his father.
Knight, Roderic, prod. 1972. Kora Manding: Mandinka Music of The Gambia. Ethnodisc, ER 12102.
Maki is a song performed originally on the kongtingo for Muntaga Tal, a son of El Hadj Omar Tal, the Tukulor leader of the nineteenth century jihad in Senegal and Mali.
(See Knight, 1972-disc, pp. 34–41 for transcriptions & translations of the texts.)
Sissoko, Bazoumana. 1972. Musique du Mali. Vol. 2. Bazoumana Sissoko, le vieux lion II. Barenreiter Musicaphon, BM 30L 2553.
This song sings of Alpha Maki Tall, son of El Hadji Omar. He disappeared at Degenbere together with his father.
Knight, Roderic. 1982a. "Manding/Fula Relations as Reflected in the Manding Song Repertoire." African Music 6 (2): 37–47.
Table One . . . includes the best known, most often heard, or otherwise significant songs in the [Gambian] repertoire. In each column the top few songs are the oldest, and the bottom few are the youngest. The majority in each case fall somewhere in between (often in the nineteenth century), but no chronological ordering beyond this is intended, since it is often not possible to date a song exactly. Most of the songs bear the name of their owner as the title. Where they do not, his name is shown in parentheses next to the title. The letter code at the right represents the person's "claim to fame" or calling in life, as shown in the bottom of the list.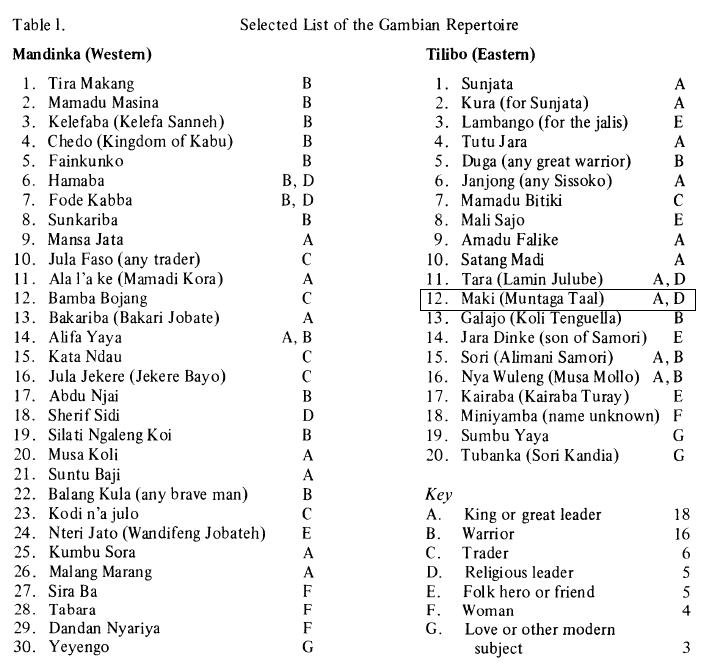 Table Two shows the same fifty songs again, grouped this time by the ethnic background of the people commemorated.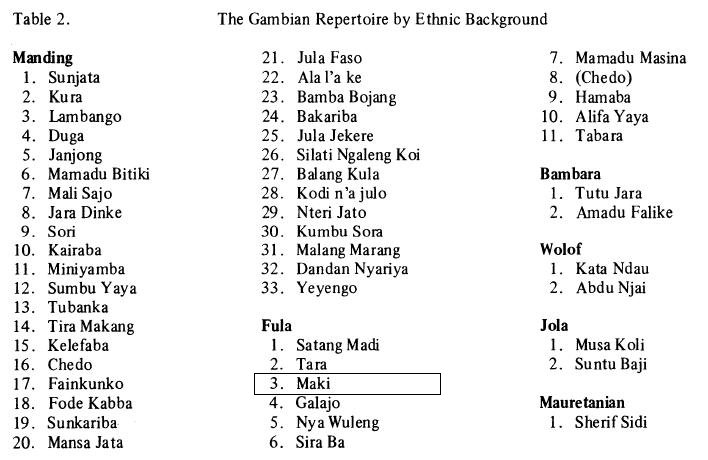 El Hadj Omar himself does not appear to have his own song in the Mandinka repertoire at present, but his sons Lamin Julube and Muntaga Taal are honored with the songs Tara and Maki, respectively.
Jessup, Lynne. 1983. The Mandinka Balafon: An Introduction with Notation for Teaching. La Mesa, Calif.: Xylo.
pp. 146–59 (Appendix 2: Balafon Repertoire)
| | |
| --- | --- |
| Title | Maki |
| Translation: | Name |
| Dedication: | Muntaga Taal |
| Notes: | Tukulor leader, praise song |
| Calling in Life: | king or leader |
| Original Instrument: | Kontingo |
| Region of Origin: | Tilibo |
| Date of Origin: | M (19th & 20th c. up to WWII) |
| Sources: | 3, 4 (R. Knight 1973, R. Knight 1972) |
Knight, Roderic. 1984. "The Style of Mandinka Music: A Study in Extracting Theory from Practice." In Selected Reports in Ethnomusicology, vol. 5, Studies in African Music, ed. J. H. Kwabena Nketia and Jacqueline Cogdell Djedje, 3–66. Los Angeles: Program in Ethnomusicology, Department of Music, University of California.
. . . a principal component of most jali songs is praise. A few lines from selected songs will convey the general nature of this theme.
Times were good under the slave-giver, horse-giver, Maki.
Kouyate, M'Bady, and Diaryatou Kouyate. 1996. Guinée: Kora et chant du N'Gabu, Vol 1. Buda, 92692-2.
This piece is dedicated to Cherif Maki, the son of the great erudite Sekou Oumar Fall, as a tribute to his wisdom and generosity.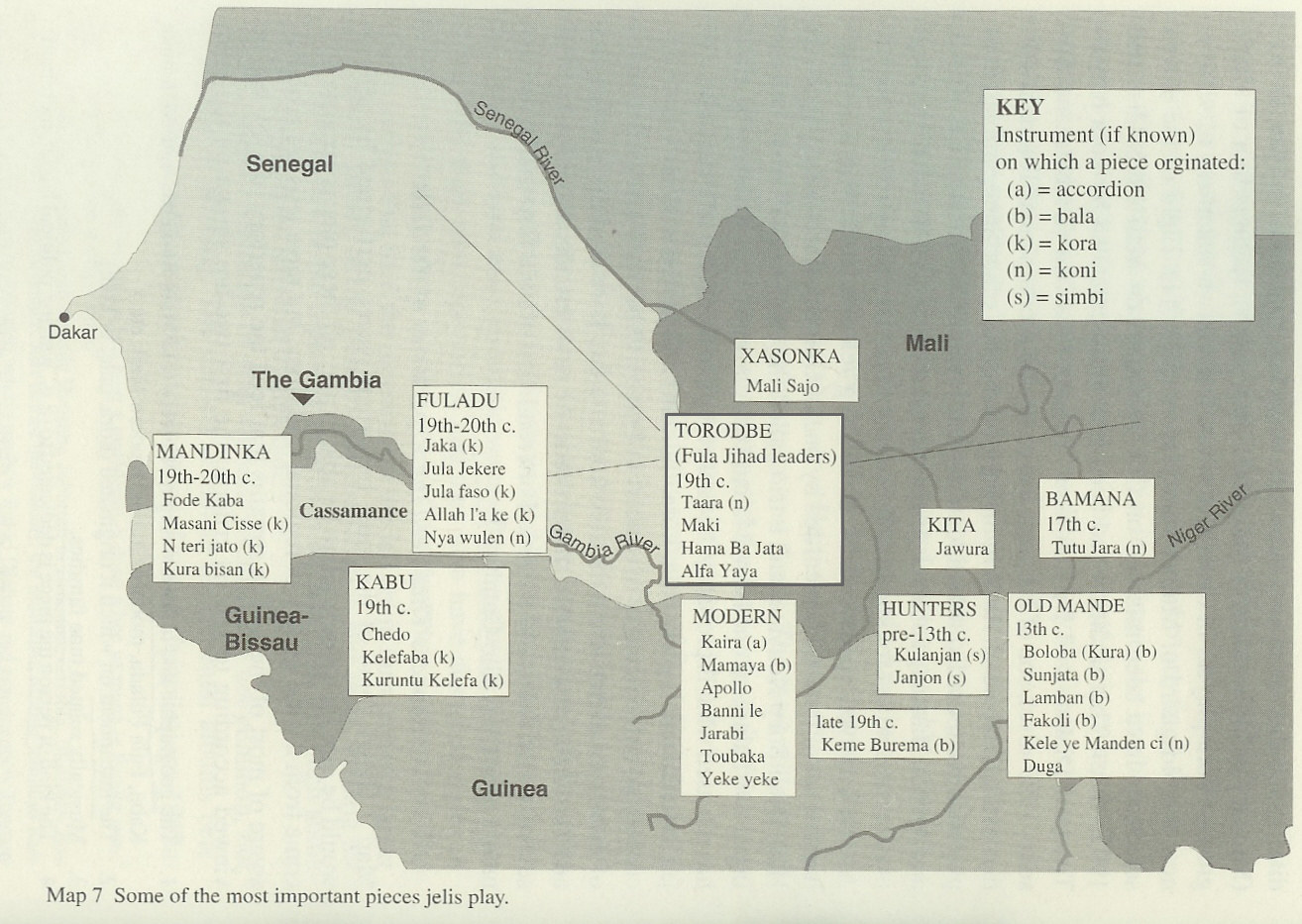 Performances of Taara often move directly into Maki, a related piece apparently dedicated to Umar Tal's second son Maki, probably born in 1836 (Robinson 1985:105–6).87
87. According to Sidiki Diabate (1990-per:73–81), Mustafa Jali Musa's father, Amadu Jali Musa, was also Umar Tal's jali, and Maki was adapted from Taara by Jaliko Madi Diabate from Guinea, who played the soron.
pp. 398–401 (Appendix C: Recordings of Traditional and Modern Pieces in Mande Repertories)
Unidentified Instrumental Origin: Maki
Bazoumana Sissoko (1971b)
Amadu Kanuteh (Knight 1972)
Mory Kante (On yarama foulbeh, 1996)
M'Bady Kouyate (1996, vol. 1)