jawura
Diabate, Sidiki. 1987. Sidiki Diabate and Ensemble: Ba togoma. Rogue, FMS/NSA 001.
This song is dedicated to Baba Sissoko, reputedly the greatest Malian patron of music of this century, a man whose acts of generosity to musicians are unrivalled. Kandia performs regularly for Baba Sissoko in his home town, Dabia. 'The lucky person's path through life is brilliant; Baba Sissoko's luck reflects the hard work of his mother. A person is not loved for nothing. Baba is descended from Fa Koli and from Maghan, the handsome sorcerer-hunter.' The accompaniment to the song is a well-known tune from Kita called Diawura.
Various Artists. 1996. The Divas from Mali: Kandia Kouyate, Mah Damba, Sali Sidibe, Oumou Sangare. World Network, WDR 28.301.
Djaoura is reminiscent of the rhythmic music to which the young daughters of Manding farmers swing their hoes in long parallel rows in the fields.
"We are singing for you, girls, we farming griots! Don't tire, keep moving ... It is us, Kandia, the kora and balo players, who sing you the old songs!"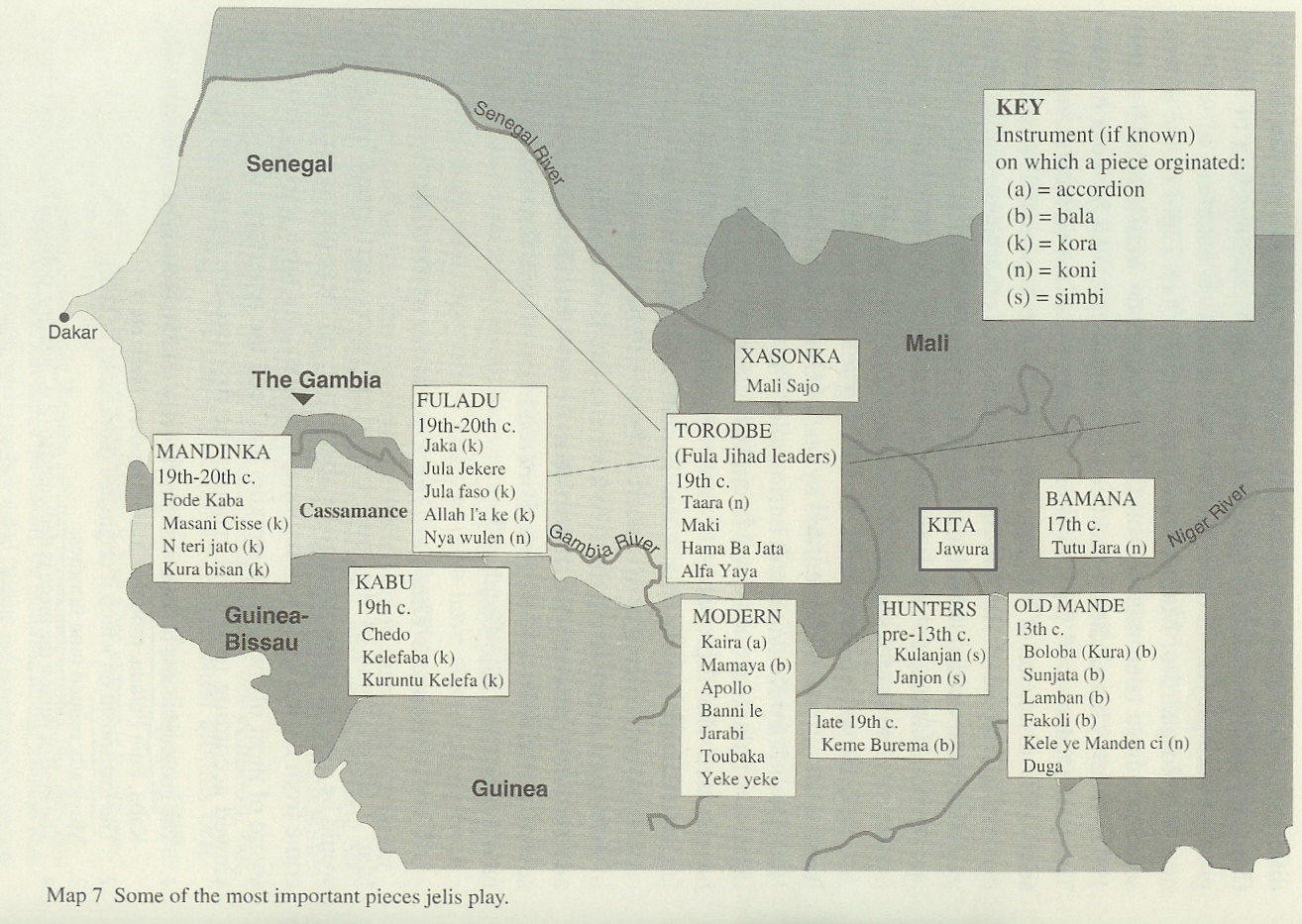 Jawura is a popular dance rhythm from Kita, Mali that may have originated on the bala. It can be played with jembe and dudun accompaniment and is a favorite of Malian acoustic guitarists (two pieces on Bajourou 1993-disc come from Jawura). Sidiki Diabate (1990-per:37–40) considered it a wellspring for composers and cites it as the mother of the kora pieces Allah l'a ke and Jula faso. Djeli Mady Diabate (bala) and Kemogo Diabate (koni) from Kita also confirm its importance, citing Hasiminka and Mamaya as derivatives from Jawura (Diabate and Diabate 1990-per).
Pieces based on Jawura, a dance rhythm from Kita, are widespread throughout Mali.
pp. 398–401 (Appendix C: Recordings of Traditional and Modern Pieces in Mande Repertories)
Unidentified Instrumental Origin: Jawura
Sidiki Diabate (Kounady La Beno, 1987)
Kandia Kouyate (Niamadyla, 198?; Kitakourou, Lagare, 199?; Divas from Mali: Djaoura, 1997; Doninke, 1999)
Walde Damba (Sabougnouma, 1989b)
Kerfala Kante (Moriba Conde, 1992)
Soungalo Coulibaly (Ya Kegne Nya Fuye, 1992)
Bajourou (Sora, 1993)
Ami Koita (Lolan, 1993; Tounya Tigui 1995 [also on Divas of Mali, 1996])
Diabate Family of Kela (Tiramaganfasa, 1994)
Kerfala Kante (Moriba Conde, 1994)
Djeli Sory Diabate and Djessou Mory Kante (Mory Kone, n.d.)
Mariam Kouyate (Ben Baliya, 199?a-disc)
Rail Band (Niamatoutou Kono, 1995)
Macire Sylla (Guiné Faré, 1996)
The song they end on, "Diaoura," is about the most commonly played song at griot weddings in Bamako. A good version can last a half-hour.
This is Kandia's version of "Diaoura," from her only international release, Kita Kan (1999). This song's title means "achieve something in life," and it warns listeners that life is short: "The earth will devour you sooner or later."
Traoré, Moussa. 2004. Mali Foli Dakan: Traditional Rhythms and Songs from Mali. Talking Drum, TDCD 80112.
Malinké rhythm, a predecessor to Dansa. While in dansa the dundun has the main role, in Djaura, dundun and djembe have the same importance. It is a very popular rhythm, not related to any specific ceremony or event.