boloba (kura)
Knight, Roderic. 1971. "Towards a Notation and Tablature for the Kora and Its Application to Other Instruments." African Music 5 (1): 23–26.
. . . a brief passage from Kura, one of the songs for Sunjata Keita, the first emperor of the Empire of Mali which flourished during the 13th and 14th centuries. The song is also known in different regions as Toronjon, [sic] Mande Kora, or Buluba.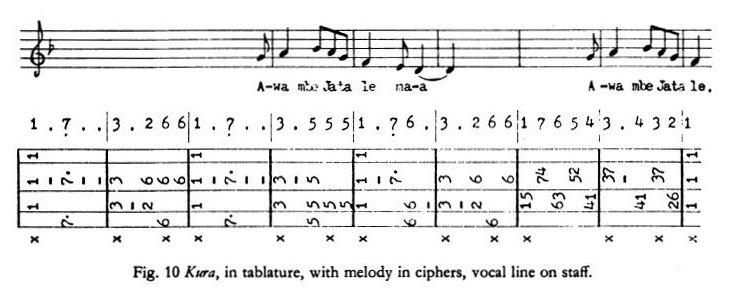 King, Anthony P. 1974. "Musical Tradition in Modern Africa." Journal of the Royal Society of Arts 123 (5221): 15-23.

Boloba, air favori de Soumaoro Kanté après la grande victoire de Kirina, a été décrété musique nationale de tous les Mandingues par Soundjata.
Knight, Roderic. 1982a. "Manding/Fula Relations as Reflected in the Manding Song Repertoire." African Music 6 (2): 37–47.
Table One . . . includes the best known, most often heard, or otherwise significant songs in the [Gambian] repertoire. In each column the top few songs are the oldest, and the bottom few are the youngest. The majority in each case fall somewhere in between (often in the nineteenth century), but no chronological ordering beyond this is intended, since it is often not possible to date a song exactly. Most of the songs bear the name of their owner as the title. Where they do not, his name is shown in parentheses next to the title. The letter code at the right represents the person's "claim to fame" or calling in life, as shown in the bottom of the list.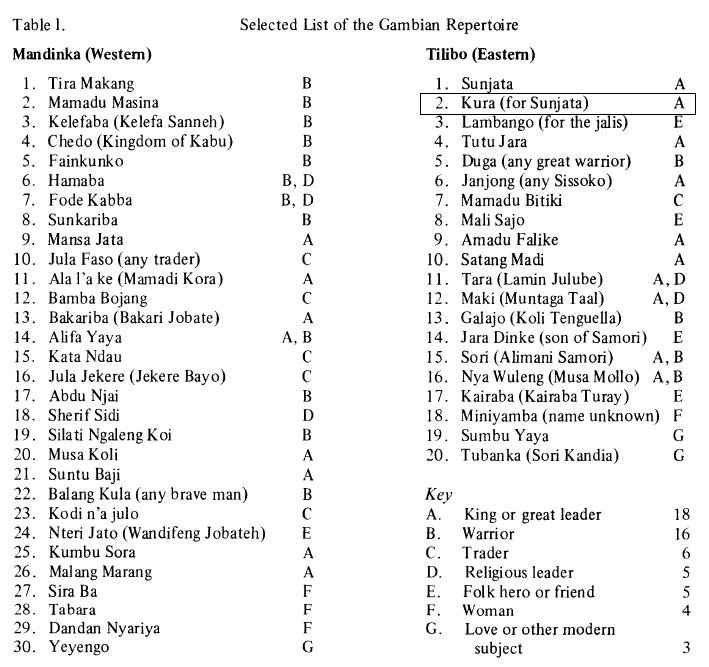 Table Two shows the same fifty songs again, grouped this time by the ethnic background of the people commemorated.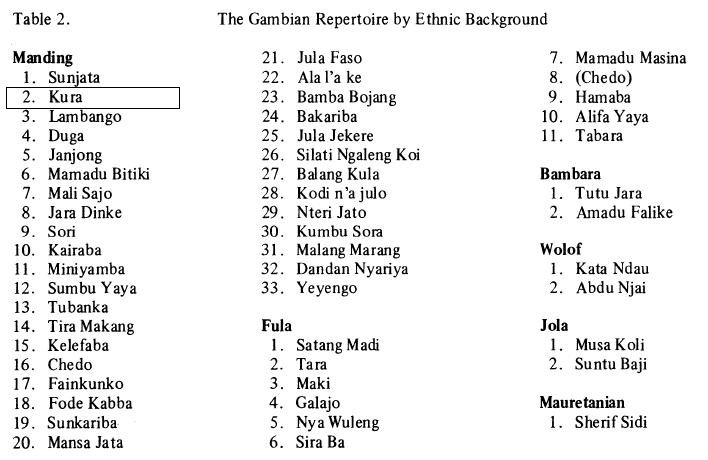 Musa Mollo himself, as with El Hadj Omar, appears not to have his own song, except for Nya Wuleng ("Red Eyes," symbolizing bravery), which has no text. However, it is very common for the jalis in the eastern regions of The Gambia to sing about him through most of a performance of Sunjata, Kura, or Tutu Jara, since his achievements have a more immediate appeal to present day audiences. A text that is frequently sung calls him the "great bar of soap," as valuable to the people as a bar of soap is to the women washing clothes
Coolen, Michael T. 1983. "The Wolof Xalam Tradition of the Senegambia." Ethnomusicology 27 (3): 477-498.
In general most fodets have from 12 to 24 beats divided into four phrases. I know of only one fodet that deviates from this pattern, and that is the fodet for the song Kura, which is composed of 20 beats (ex. 6).

Jessup, Lynne. 1983. The Mandinka Balafon: An Introduction with Notation for Teaching. La Mesa, Calif.: Xylo.
Donkilo (on teaching tape)
| | |
| --- | --- |
| Siba m be jata le ma | Siba, I am talking of Jata, |
| Siba m be jata le ma | Siba, I am talking of Jata, |
| Jata i kuti yara | Jata, you've become someone. |
(note: "Siba" is a name. Some jalis say "Simbo". "Jata" is short for "Sunjata" and means "Great Hunter.")
pp. 146–59 (Appendix 2: Balafon Repertoire)
| | |
| --- | --- |
| Title | Kura (Toolongjongo) |
| Translation: | New thing |
| Dedication: | Sunjata |
| Notes: | a.k.a. Toolongjongo; kora plays Kura |
| Calling in Life: | king or leader |
| Original Instrument: | Balafon |
| Region of Origin: | Tilibo |
| Date of Origin: | E (13th & 14th c.) |
| Sources: | 3 (R. Knight 1973) |
Knight, Roderic. 1984. "The Style of Mandinka Music: A Study in Extracting Theory from Practice." In Selected Reports in Ethnomusicology, vol. 5, Studies in African Music, ed. J. H. Kwabena Nketia and Jacqueline Cogdell Djedje, 3–66. Los Angeles: Program in Ethnomusicology, Department of Music, University of California.
In Mandinka music too, there are many pieces that display bass line progressions moving not between one and five, but between tones that are only one or two steps apart. . . . The best examples are kumbengolu with paired phrases . . . (heard on OCR 70, A-2 and B-3):
Example 15. "Kura," with bass progression 1-6, 1-5 indicated.

One piece ("Kura," Ex. 15), is unique, with a kumbengo of twenty pulses in groups of five.
There are four standard konkondiro patterns.
I: "Lambango." Of the metronomic konkon rhythms, one is by far the more common. It consists of three taps and a pause in any order, such as x x x · or · x x x or x · x x. This pattern moves slowly, clearly marking off four equal subdivisions. . . . This konkondiro is used for "Kura" (Ex. 15) also, reinforcing the perception of four groups of five pulses noted above.
(The strong in the arms.) This tune, one of the most famous of the balaphone repertoire, was played on special occasions, for important people.
Kouyate, M'Bady, and Diaryatou Kouyate. 1996. Guinée: Kora et chant du N'Gabu, Vol 1. Buda, 92692-2.
(Les gros bras) Cet air est l'un des plus célèbres du répertoire mandingue. Il était joué en l'honneur des personnages importants.
Suso, Jali Nyama. 1996. Gambie: L'art de la kora. Reissue of 1972 with other unreleased material. OCORA, C 580027.
"Kura" is one of the oldest songs in the repertoire. It is dedicated to Sunjata Keita and is sung in Bambara, the language of Tilibo. It was originally played on the balo. On the kora, it is played in hardino.
"Simbong, I am calling the Lion, fearless Lion. The great cats are running, Simbong and Jata are at Narena."
When Sunjata's jeli, Bala Faseke (or Balla Fassali) Kouyate, gained entry into Sumanguru Kante's secret chamber, he began playing the bala. Sumanguru, who was out in the bush, was reputed to be able to hear his bala anywhere he was, and he magically appeared in his chamber ready to kill whoever was playing it. Bala Faseke Kouyate immediately began singing Sumanguru's praises and won him over. Sumanguru is said to have cut Bala Faseke's Achilles tendons to ensure that he would remain his jeli.72
According to my teacher Bala Dounbouya (1989-per), the piece that Bala Faseke Kouyate played for Sumanguru was called Boloba. Wa Kamissoko was also of this opinion. "Having come back from the bush, Sumaworo found Faseke Kwate playing boloba, 'great arms,' which is the first hymn of the Mande. The Sunjata fasa [praise hymn], like boloba, was drawn from the music of the hunters" (Cissé and Kamissoko 1988:165). Djibril Tamsir Niane (1965 :39) wrote that Bala Faseke played Duga, another of the oldest pieces in repertory.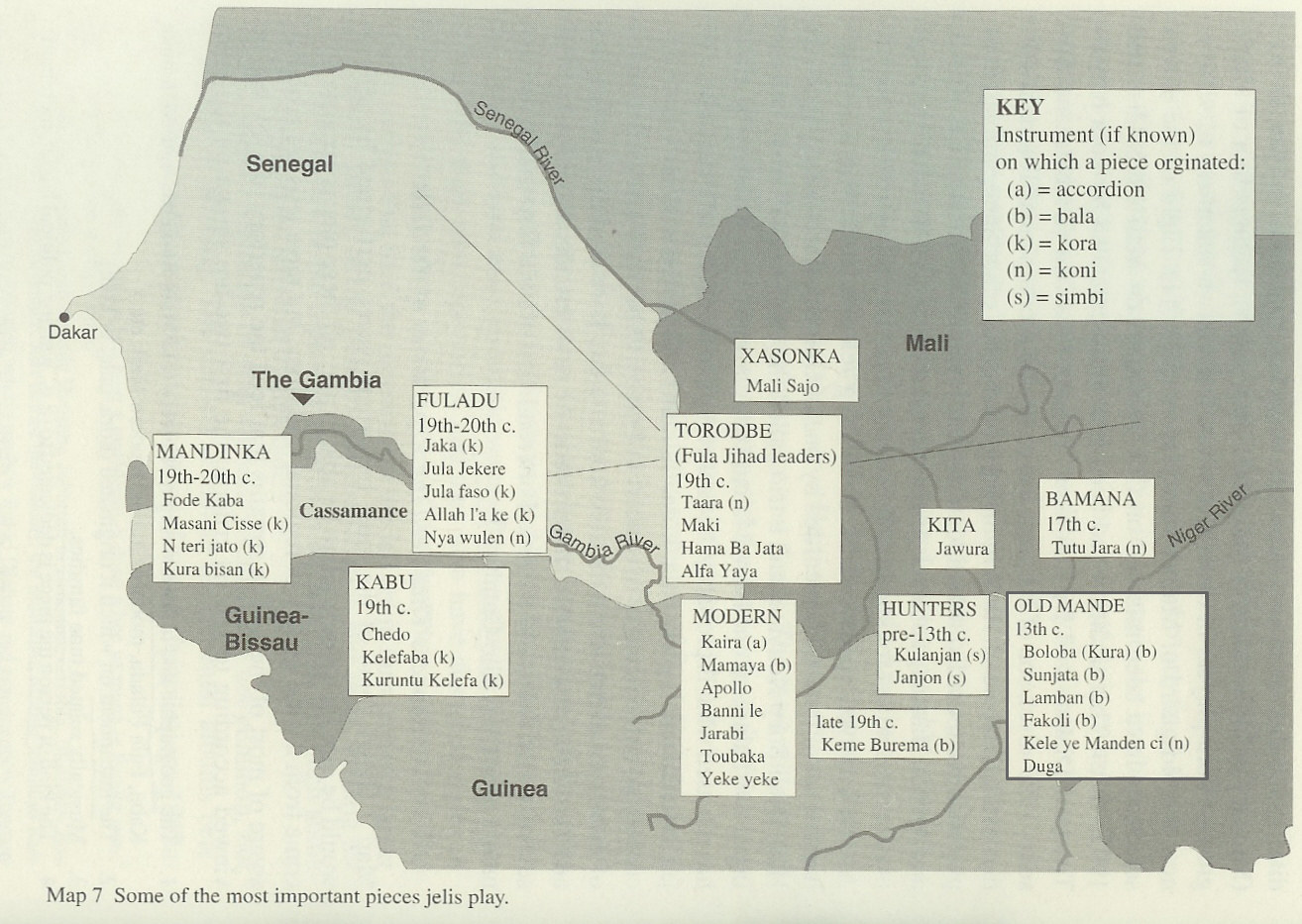 Many of the pieces associated with old Mali are believed to come from the bala (such as Boloba, Sunjata, and Lamban), but one piece, Kele ye Manding ci (War has brought down the Mande), may come from the koni, according to Xasonka koni player Moussa Kouyate.
I call one such set the Sunjata complex, not to be confused with the set of pieces that can be performed during a rendition of Sunjata Fasa (the Sunjata epic). The pieces Sunjata, Lamban, and Boloba all have similar harmonic progression (transcription 13), yet they differ enough in their realizations so that they are not spoken of as musically related.
The bala is one of the most potent symbols of Mande identity, as is the body of music associated with it surrounding the early formation of the empire. That music is exemplified in three musically related pieces that make up what I call the Sunjata complex: Sunjata fasa, a series of praise songs and narratives that recount the history of the Mali empire; Boloba (called Kura in the Gambia), dedicated to Sumanguru Kante; and Lamban, created by the Kouyate jelis as a celebration of being a jeli. During a performance of Sunjata fasa a number of distinct songs praising Sunjata may be incorporated, including Nyama nyama nyama, I bara kala ta, and Subaa ni mansaya. Songs praising other figures in the epic might be incorporated, such as Janjon, Boloba, and Tiramakan. Boloba and Lamban hold unique places in the jeli's repertory. Boloba is the only piece in any genre of Mande music in which the beats consist of five pulses each rather than the usual two, three, or four pulses (transcription 14).
(See Charry, 2000.) (Bala transcriptions, comparison of Boloba, Sunjata and Lamban.)
Song for great figures (prominent Chiefs and Warriors).
. . . Abou Sylla told me that Boloba is a piece that was historically played for kings, or honored or powerful people, who had either done good things for people or eliminated something bad or evil (personal conversation, March 2006).
A part of the Sundjata epic.