konkoba
Keita, Mamady. 1992. Nankama. Fonti Musicali, FMD 195.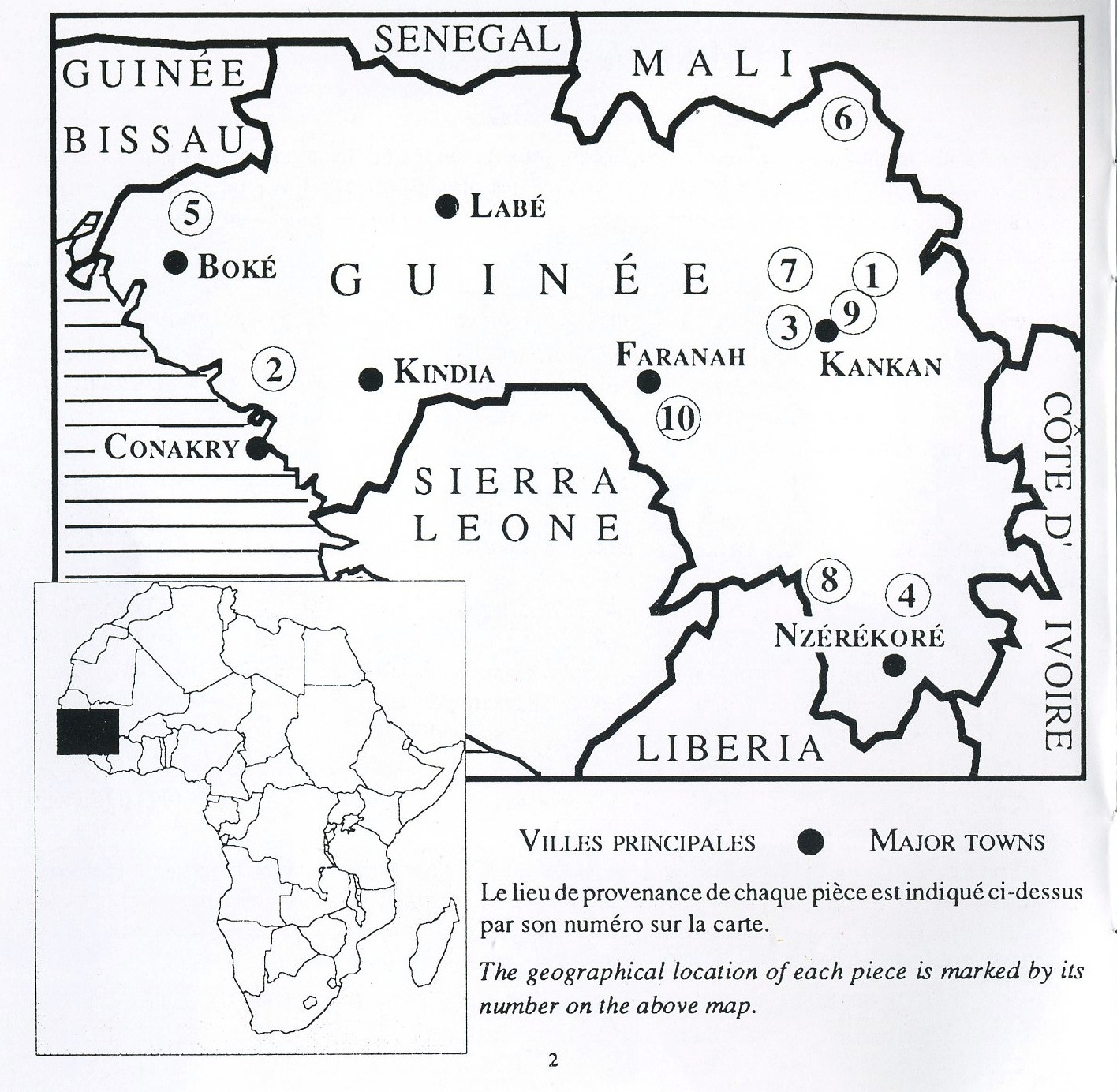 Région: Faranah. Rythmes: Malenke, Djalonke (no. 10 on map.)
Joué pour rendre hommage aux grands cultivateurs dans les pays malenke et djalonke. Appelé aussi "rythme des bons travailleurs".
Diabate, Karamba. 1996? Journey Into Rhythm: The Rhythms & Music of Guinea West Africa. 2 vols. Third Ear Productions.
Konkoba is played to encourage the worker in the field in celebration of the outstanding farmer by Malinke and Susu people of West Africa.*
* Transcription mine.
Billmeier, Uschi. 1999. Mamady Keita: A Life For the Djembe—Traditional Rhythms of the Malinke. Engerda, Germany: Arun-Verlag.
Traditional Ethnic Group: Malinke; Northeast Guinea (Faranah)
Konkoba 1 and 2 both are rhythms that are played for working in the fields.
Konkoba is also played in honor of a powerful and rich farmer. It is also known as the "rhythm for the good workers." The word konko means forest, or jungle.
Joyeux's extended description of performances in Kankan by eleven bala players associated with a large masked figure known as Konkoba is probably typical of Guinean bala-based traditions.
The leaders place themselves in the middle. . . . The other balas are arranged in a line to the left and right of them. At both ends are placed the percussion instruments, and the singers are behind.
The leader begins the concert by exercises of virtuosity on his instrument; he plays a "cadence," dare I say, characterized by rapidly descending lines. Then, calming down, he attacks the tune taken up by all the other players and sung by the singers, which the leader intones in case the memory of the singers is at fault; in turn the drums come in and the piece is under way. It continues in this way, the same theme repeating indefinitely; from time to time the leader weaves variations, where he shows a real virtuosity, while the other musicians continue the theme. I have seen them play nonstop for a whole afternoon. . . . the moment a native approaches and appears ready to dance, the musicians revive and beat on their balas with all their strength. . . .
The konkobas play music in all the normal circumstances, singing the praises of leaders, of newlyweds, of the circumcised, eulogies for the deceased; in former times they encouraged the combatants and consoled the wounded . . . their repertoire is made up of about thirty airs, whose words they modify according to the needs of the moment. (Joyeux 1924: 207–8)114
114. For extensive discussion and photos of Konkoba performances in Siguiri see El Dabh and Proschan (1979: 18–54); for additional photos see Joyeux (1924, fig. 8) and Huet and Keita (1954: 85); for a silent film and an audio recording of the event see Boulton (1934-vid; 1957-disc). Also see the discussion of Mamaya, which probably is based in Konkoba performances, in chapter 5.
The fields have been prepared for planting. Konkoba has completed his work and returns to the village. He's wearing a head-dress of antelope horns, and a hide adorned with bells, mirrors and cowry shells around hiships [sic] that jingles with every step. His adornments have protected him and given him the strength to complete his difficult task. Konkoba is also the name of the rhythm that animates the one who is returning home, and the rest of the village, to dance.
Keita, Mamady. 2004. Guinée: Les rythmes du Mandeng. Vol. 3. Fonti Musicali, FMU 0330.
Konkoba is a Malinké rhythm from northeastern Guinea. It is played while people are working in the fields during harvest and celebrations for farmers. It is also called the rhythm for hard workers and good cultivators and it is played for rich or important farmers.*
* Transcription mine; of English-language DVD narration.
Konkoba is the "Rhythm of Good Workers," homage to Malinke and Djalonké farmers from Faranah. The words are about food.
| | | |
| --- | --- | --- |
| If I knew, I would make a sacrifice for Konkoba | N'téré balon, n'di Konkoba saraka | Si je savais, je ferais un wacrifice pour le Konkoba |
| Ten kola nuts cannot be a sacrifice for Konkoba | Woro-oulen tan té konkoba saraka | Dix noix de cola ne peuvent étre un sacrifice pour le Konkoba |
| Hé hé yé, you are a bull | Hé hé yé toura li idi | Hé hé yé tu es un taureau |
| Ah ah an take up the hoe, and come on Sayon | Ah ah an daba lama, gnéwa Sayon | Ah ah an remue l'houe, puis allons Sayon |
Performed to honor field and plantation workers.
(Dibon, Kassa et Konkoba Dunun)
Lorsque la saison de la pluie est finie, le sol doit être préparé pour la culture. Á un jour déterminé, les villageois vont travailler les champs. C'est un travail fastidieux qui est accompagné par les tambours et les chants. Ces rythmes synchronisent les mouvements du travail et donnent ainsi un tempo régulier. Les chansons chantées font l'éloge des travailleurs et les encouragent à ne pas abandonner leur tâche. Dans cet enregistrement, Famoudou Konaté fait un arrangement de certaines variantes de trois rythms en une séquence: dibon, kassa et konkoba dunun. ... Le rythme final est formé par le konkoba dunun sur lequel les ouvriers agricoles et tous les villageois vont danser une fois leur travail accompli.
Music played for the farmers in the fields. Music was played to help ease the pain of the hard work.
| | |
| --- | --- |
| "Ila wouli konkoba Sio ah Massa Kaladendeto Sio de." | Sio konkoba is the name given to Sio because he works so well that they added konkoba to his name. He is the son of Massa Kala. |
Malinke rhythm from Upper Guinea played for work in the fields.