tabara
Knight, Roderic. 1982a. "Manding/Fula Relations as Reflected in the Manding Song Repertoire." African Music 6 (2): 37–47.
Table One . . . includes the best known, most often heard, or otherwise significant songs in the [Gambian] repertoire. In each column the top few songs are the oldest, and the bottom few are the youngest. The majority in each case fall somewhere in between (often in the nineteenth century), but no chronological ordering beyond this is intended, since it is often not possible to date a song exactly. Most of the songs bear the name of their owner as the title. Where they do not, his name is shown in parentheses next to the title. The letter code at the right represents the person's "claim to fame" or calling in life, as shown in the bottom of the list.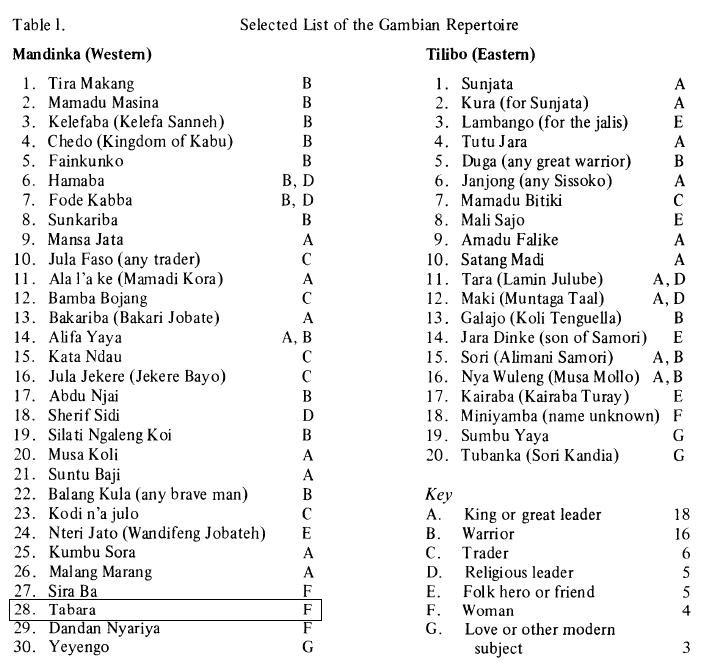 Table Two shows the same fifty songs again, grouped this time by the ethnic background of the people commemorated.
Two other songs commemorate Fula women who married Mandinka men. One is for Sira Ba, . . . The other is for Tabara, a gawulo or professional Fula singer whose beauty attracted Nankulang Nkoma, then the chief of Niani on the North Bank of the Gambia River (See examples 5 & 6).
| | |
| --- | --- |
| Nkoma le y'a fo | It was Nkoma who said it: |
| Tabara ka di n ye. | "I like Tabara." |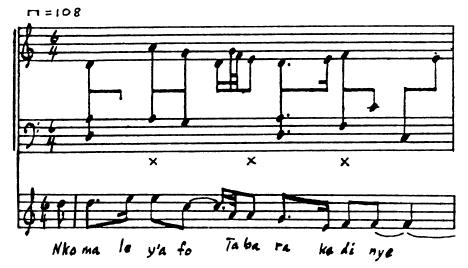 Jessup, Lynne. 1983. The Mandinka Balafon: An Introduction with Notation for Teaching. La Mesa, Calif.: Xylo.
| | |
| --- | --- |
| Lai la la | no translation |
| Hayila la, Tabara. | -only the name Tabara has meaning. |
| | |
| --- | --- |
| Duniya be ten ne, | Life is like that, |
| jon m'a laban long (rep.) | Man doesn't know his end. |
| Nkoma le y'a fo, | Nkoma said, |
| Tabara ka di nye. | "I like Tabara" |
| Nankulan na nyaro | Nankulan's feline beauty |
| Tabara jele mfe. | Smiled at me. |
Background to "Tabara"
Tabara Njai was a famous Fula griot, an outstanding singer and very beautiful. The seyfo at Niani, Nankulang Koma saw her, fell in love with her and married her. The song is dedicated to her, describing her beauty as feline. Later they were divorced. Today Tabara lives in Dakar, Senegal, and still maintains the elegance which made her famous.
She has gold on her ears,
Silver on her arms.
Nankulang's feline beauty,
Tabara Njai.
Related information
The role of women in Mandinka society in general, and as jalis in particular would be a fascinating subject to pursue since very little research has been done on the topic. Jalis hold a unique position of power with low status, and for Tabara to marry outside this class structure is a very unusual occurrence, and one which attests to her beauty and talent as a jali.
pp. 146–59 (Appendix 2: Balafon Repertoire)
| | |
| --- | --- |
| Title | Tabara |
| Translation: | Name |
| Dedication: | Tabara Njai |
| Notes: | famous Fula beauty and jali muso |
| Calling in Life: | Popular Woman |
| Original Instrument: | Kora |
| Region of Origin: | Manding (Western Coastal Region) |
| Date of Origin: | L (after WWII) |
| Sources: | 1, 3, 4, 5 (Jessup & Sanyang, R. Knight 1973, R. Knight 1972, M. Suso) |
Knight, Roderic. 1984. "The Style of Mandinka Music: A Study in Extracting Theory from Practice." In Selected Reports in Ethnomusicology, vol. 5, Studies in African Music, ed. J. H. Kwabena Nketia and Jacqueline Cogdell Djedje, 3–66. Los Angeles: Program in Ethnomusicology, Department of Music, University of California.
. . . a principal component of most jali songs is praise. A few lines from selected songs will convey the general nature of this theme.
Her ears are adorned with gold, her arms with silver. Regard the feline beauty of Tabara.
Most praise is for achievement or generosity. The last song, praising physical beauty, is unusual.
In Mandinka music too, there are many pieces that display bass line progressions moving not between one and five, but between tones that are only one or two steps apart. . . . The best examples are kumbengolu with paired phrases . . . (heard on OCR 70, A-2 and B-3):
Example 16. "Tabara," with bass progression 6-2, 6-1 indicated.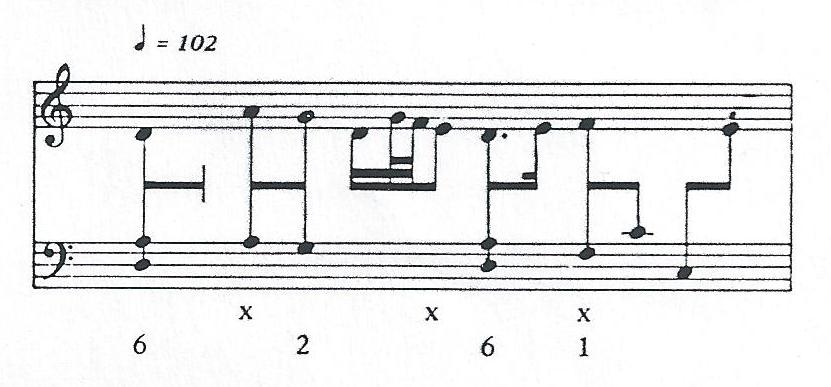 In some pieces the upper and lower parts suggest different pulse groupings, as in the "brushed chord" variation used in the song "Tabara" shown below. The triple pulse organization of the upper line versus the duple organization of the lower is shown by splitting the central beam. Note also that the triple organization is also outlined by the Lambango konkondiro so that the hemiola effect is present in this kumbengo even without this particular version (cf. Ex. 16):
Example 20. The brushed-chord variation in "Tabara," shown with split-beam notation. This may be heard on OCR 70, B-3.

Bajourou. 1993. Big String Theory. Globestyle, CDORBD 078.
(I Ka Di Nye [You Please Me])
This is based on an old kora song from the Gambia that dates from the beginning of this century. It is one of the few traditional love songs, and also one of the only songs in honour of a woman: in this case Tabara Njai, the beautiful wife of a trader who was so in love with her that he covered her in gold and silver jewellery. . . . During the teremeli (vocal improvisation), Lafia also sings the praises of Mohammed the prophet.
There is no god but Allah!
Ah, Tabara!
The juju that hangs around your neck
can be broken by a person
but what is inside your mind
can only be undone by God.
If someone pleases you, let them know
tell them that you like them.
Jobarteh, Amadu Bansang. 1993. Tabara. Music of the World, CDT 129.
Tabara is a relatively recent composition and is believed to have been written by Jali Keeba Suso who was commissioned by a local chief named Nankolang Kooma. The song is the story of Tabara Ndiaye, the chief's beautiful wife. The piece is played in sauta tuning, which is similar to a major scale with a sharp 4th. The piece is unusual in that the composer is known. More often than not, their names have been lost to history.
Suso, Jali Nyama. 1996. Gambie: L'art de la kora. Reissue of 1972 with other unreleased material. OCORA, C 580027.
Tabara Njai was a Fula singer who performed frequently for Nankulang Koma, a mid-twentieth century chief of Niani District on the north bank of the Gambia River. Koma was so attracted to Tabara that he married her, even though it was against her wishes. This is an instrumental solo, but the song is a classic, and most listeners know the words: "Nankulang said, 'I like Tabara.' She wears gold in her ears, silver on her arms--Nankulang's beautiful woman, Tabara."
"Tabara" displays the same 24-pulse rhythm heard in "Yundum Nko," and is equally rich with hemiola. It is played in sauta tuning, in this case a variant that Nyama called "Half-sauta", in which only the upper-register fourth is sharped, leaving the lower register tuned to hardino.
Rouget, Gilbert, prod. 1999. Guinée: Musique des Malinké. Le Chant du Monde/Harmonia Mundi, CNR 2741112. Reissue of all Guinean material from 1954 and 1972 with expanded notes.
« Tabara ». Chante de louange par Koné Kouyaté, accompagné à la harpe (kòra).
Ce chant m'a été donné à Kankan, en 1952, sous le titre de « Tabara »1, or, nous apprend L. Jessup2, Tabara était le nom d'une chanteuse peule célèbre à laquelle était dédié un chant portant son nom ; c'est selon toute vraisemblance à celui-ci que nous avons ici affaire. Il n'en reste pas moins qu'en réalité il s'agit d'un air (donkili) ancien, connu sous le nom de « Solu o! », « Oh ! Les chevaux ! », et consacré à la gloire de la cavalerie malinké ; c'est bien en effet par une invocation aux chevaux que commence le chant de Kondé Kouyaté. Selon Youssouf T. Cissé, Tabara est un nom qu'on donne à une fille née à un moment où la guerre fait rage (ta ba, « feu - i.e. guerre - grand »). Ainsi s'expliquerait peut-être qu'à cet air éminemment militaire et viril ait été ainsi associée la louange d'une chanteuse. Quoiqu'il en soit, « Tabara », entend-on, est le dernier mot que prononce, en finissant de chanter, Kondé Kouyaté, comme s'il s'agissait pour elle de conclure en saluant la dédicataire de cette pièce.
Other well-known pieces include Tabara, dedicated to a beautiful Fulbe woman from The Gambia, . . .
pp. 398–401 (Appendix C: Recordings of Traditional and Modern Pieces in Mande Repertories)
Kora: Tabara
Unidentified (Guinea Compilations 1962b)
Jali Nyama Suso ([1972] 1996)
Djeli Mady Tounkara and Bouba Sacko
Amadu Bansang Jobarteh (1993)
Moriba Koita (Niani Mankan, 1997)
Diabate, Toumani, and Sidiki Diabate. 2014. Toumani & Sidiki. World Circuit, WCD087.
A love song from the early 20th century inspired by the legendary beauty of Tabara N'Diaye, a griot singer from Senegal. Men fell in love with her just by her reputation and her patron, Nankulan Koma, married her. "Laugh for me, so that I can see your beautiful white teeth," go the lyrics to the song, "white as the light of the moon, as the sun that shines." The song is played in 'Sauta', the tuning most favoured by Malian kora players and perfectly adapted to accompany the soaring voices of the Malian griots. Tabara was a favourite of both Toumani's father and his great uncle Amadu Bansang Jobarteh who made it the title track of his last recording.