jarabi
Sacko, Fanta. 1972. Musique du Mali. Vol. 1. Fanta Sacko. Barenreiter Musicaphon, BM 30L 2551.
A song dedicated to the power of love and to its predominance over all other feelings. It teaches us that:
Every person
Is called upon to dedicate to another
A passionate love.
All illnesses
Can be treated by the doctors,
But love is an illness
Which doctors cannot cure.
Wait for me! Wait for me, my beloved one!
For I cannot live without you.
Surely you do not know my beloved one:
It is he who, for me,
Eclipses all others.
The old women do not know
Perhaps, the power of love;
The old men do not know,
Perhaps, the power of love;
For if they really knew it
They would have understood my passion,
They would have understood
That love is an incurable illness.
For love knows no father,
For love knows no mother,
For love knows neither brother nor sister;
Love is blind to all this,
Love is deaf to all this,
What counts alone is what you have said to me.
And never forget, my beloved one,
What you have promised me,
For treason is worse than all,
Especially in love.
African Virtuoses (Sekou "Docteur" and Abdoulaye Diabate, Sekou Kouyate). 1983. African Virtuoses. JBZ.
(A version of "Diarabi" associated with the Guinean town of Kankan) is one of the most popular love songs in the region, covered by kora players and guitarists alike. After Abdoulaye's rendition of the melody, Sekou takes the first solo and then moves into a classic Guinean accompaniment pattern of a steady stream of notes, drawn from the playing style of the balafon, that don't let up. Abdoulaye takes over with another fiery solo followed by more scat singing.
Jessup, Lynne. 1983. The Mandinka Balafon: An Introduction with Notation for Teaching. La Mesa, Calif.: Xylo.
pp. 146–59 (Appendix 2: Balafon Repertoire)
| | |
| --- | --- |
| Title | Jarabi Kura (Jula Jekere) |
| Translation: | New Lover |
| Dedication: | n/d |
| Notes: | a.k.a. Jula Jekere |
| Calling in Life: | n/d |
| Original Instrument: | all |
| Region of Origin: | Gambia |
| Date of Origin: | L (after WWII) |
| Sources: | 1, 5 (Jessup & Sanyang, M. Suso) |
Diallo, Alpha Yaya. 1993 Nčnč. SA 93279CD.
Djarabi (My Love)
Help me find my love again,
Who has seen the love of my heart?
Betrayal of trust can kill love,
but I still love you.
I'm asking you to come back to me,
don't leave me alone.
Almighty, Redeeming god, you are the only witness to my sorrow.
Where are you my love?
Don't leave me,
You're the one I love.
You're the happiness in my heart.
Don't go away.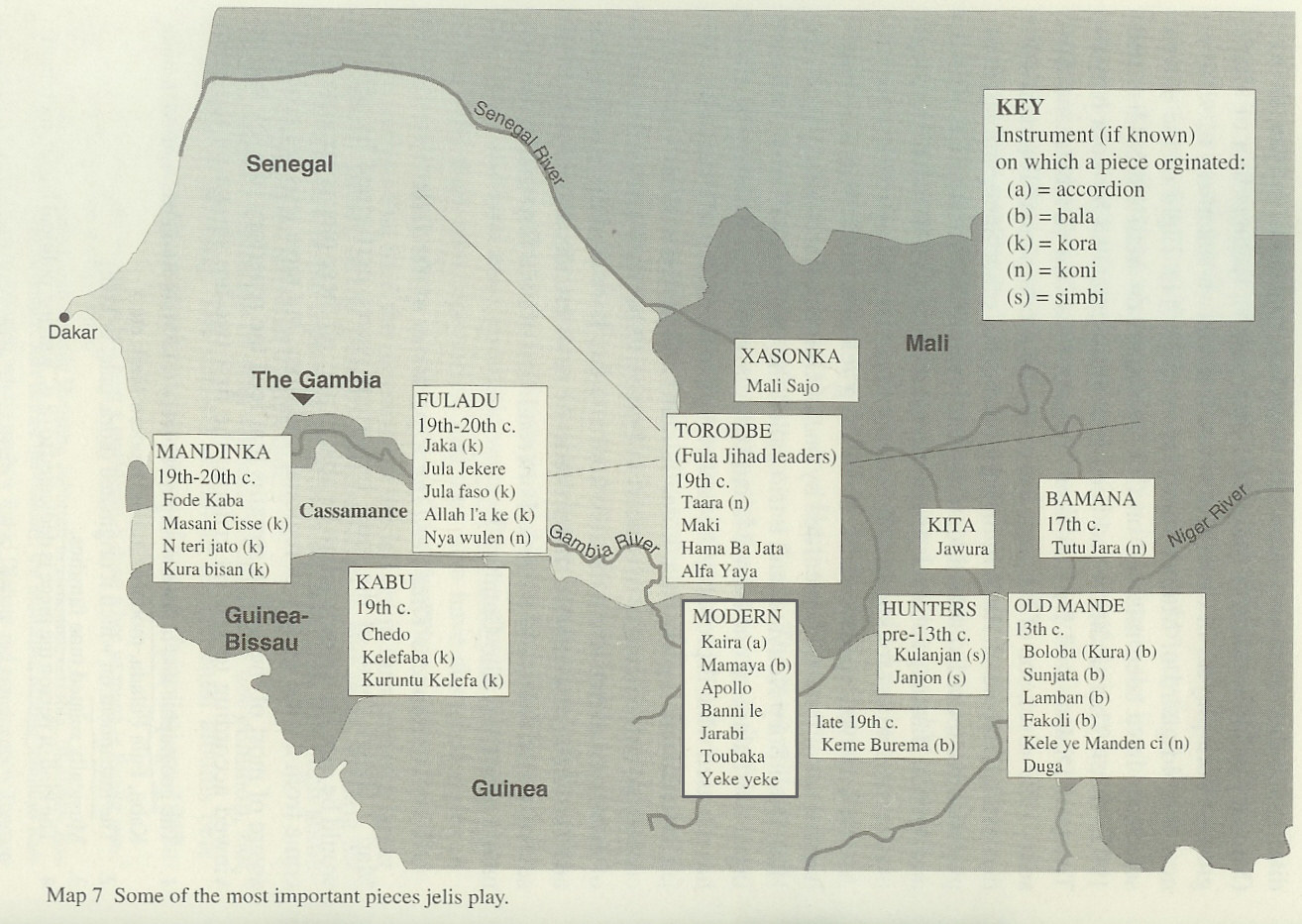 Some modern pieces that probably developed on the guitar, such as Apollo, Jarabi, and Tubaka, have also entered the repertory of the jeli, and the guitar has absorbed virtually the whole of the jeli's repertory, being accepted since at least the 1950s as a bona fide jeli's instrument.
Jaraby [sic] (Fr: Diarabi) is another popular love song that has two variants, one being distinguished as Kankan Jarabi, the other associated with Fanta Sacko (1972-disc).93
93. For French translations of many songs in the jeli's repertory see M. Diabate (l970a) and M. Kaba (1995). For Maninka lyrics and French translations for a variety of songs see Perron (1930). . . .
99. Knight cites many examples of shifted tonal centers on the kora, which he correlates with various Western modes, including Sidiki Diabate's version of Duga (Ministry of Information of Mali 1971-disc) Sacko Dugu (Sidiki Diabate 1987-disc), both with tonics on the 6th degree of Hardino; and Toumani Diabate's (1988b-disc) version of Jarabi, with a tonic on the 6th degree of Sauta.
Older pieces from the jeli's repertory were rare on commercial recordings before the 1960s.13 Among the several twentieth-century jeli pieces recorded were Kaira, Yarabi (Diarabi), and Mamaya (also known as Bandian Sidime), all three recorded by both "Soba" Manfila Kante (1961?-disc) and Nouhoum Djallo (Nourrit and Pruitt 1978, 1:49–50.)
G tuning (transcription 27, Cinquante-six) may have been popularized in Guinea in a piece known as Cinquante-six (referring to the year 1956) or Makale, a variant of Jarabi (N. Kouyate 1994-per.) Like Jarabi F tuning, in Cinquante-six a strong G-D to A-D (1-5 to 2-5) bass alternation is made easier by the two altered bass strings.49
pp. 398–401 (Appendix C: Recordings of Traditional and Modern Pieces in Mande Repertories)
Modern: Jarabi
Fanta Sacko (1972)
Ami Koita (1988)
Lamine Konte (1989)
Mah Damba (Divas from Mali, 1987)
Cheikh M. Smith (1992)