masani cisse
Charters, Samuel, prod. 1975a. African Journey: A Search for the Roots of the Blues. Vanguard, SRV 73014/5.
"Selati Nalim Koye" is an older version of the song "Massaneh Sise," about one of the great warriors of the Kabo [sic] period of Mandingo history. He was considered to be beyond reproach, even if he was forced to kill.
Selati Nalim Koye, the righteous prince,
so righteous that even when he killed someone
he was always said to be right.
(repeated)
Mesane [sic] Sise lived near Bintang Creek.

In this world no-one can forsee his own end.

You always have to protect yourself
because you can never forsee your own end.
But Selati Nalim Koye, the righteous prince,
is always right.
Sona Ngalang's prince is always right,
even when he has to kill he is always right.

In this world no-one can forsee his own end......
(This is repeated many times.)

While the tune always struck us as being hauntingly familiar, it was not until our return from Africa that we discovered why this should be so. Paula Ballan, then Director of the Philadelphia Folk Festival, demonstrated to us that the English ballad "Fair Ellender" or "The Brown Girl" could be played and sung against "Ma Sane Sise." The themes of death and unrequited love shared by the two songs make the coincidence even more striking, but the likelihood of these parallels being anything other than coincidence seems remote. The historical Ma Sane Sise was a wealthy merchant who was born in the mid-nineteenth century and died shortly after World War I. Jali Wandifeng Jobateh was the author of the original song composed in his memory (Gambia News Bulletin, 11 Nov., 1976).
A summary of Bai Konte's version of the story of Ma Sane Sise follows:
Once there was a man living in Banjul whose name was Bakari Niuminko. He wanted to marry a beautiful Wolof woman of Banjul, and so his people began making all the arrangements with the woman's family. Meanwhile, some relatives of Ma Sane Sise, a wealthy and powerful man living the the village of Bintang, told him about the woman. They urged him to try for her hand, saying that the woman and her family were sure to prefer him to Bakari Niuminko, who was not a rich man. Sure enough, the woman's family were eager for such a fine match, and so they returned Bakari Niuminko's marriage payment and accepted Ma Sane Sise's instread.
Feeling very bitter about what had happened, Bakari Niuminko went to a Muslim holy man and gave him a large sum of money, saying that he wanted to ensure that the marriage between his beloved and Ma Sane Sise should never be consummated. The marabout accepted the payment and told Bakari Niuminko not to worry: on the very day that the bride arrived at Ma Sane Sise's compound, Ma Sane Sise would die.
On the appointed day, the bride's family escorted her by boat to the riversided village of Bintang, to the compound of Ma Sane Sise. Huge crowds were there that day to celebrate, for Ma Sane Sise was extremely wealthy and well known for his bounteous feasts. Among the guests were the Niuminko family, who all wished the newlywed couple well.
Outside the crowd was dancing and celebrating, while inside his house, surrounded by a few close friends and entertained by his favorite kora musician, Ma Sane Sise reclined happily, his head in his bride's lap. Suddenly, without warning, the marabout's promise came to pass, and life left Ma Sane Sise. His friends were stunned, and his brade crazed with grief. To soften the blow to the crowds outside, the musician composed a song to announce Ma Sane Sise's death, borrowing the melody from the traditional tune "Silatingaling."
Bakari Niuminko's bitter wish came true, but he himself never married the beautiful Wolof woman. She never regained her sanity after Ma Sane Sise's death, and so remained unwed for the rest of her life.
Ibrahima Nyas sings several stanzas, of which the following serves as a kind of refrain:
| | |
| --- | --- |
| Bintam bolongo dala | Bintang by the stream |
| Ma Sane Sise | Ma Sane Sise |
| Bintam bolongo dala | Bintang by the stream |
| Ma Sane Sise. | Ma Sane Sise. |
Knight, Roderic. 1982a. "Manding/Fula Relations as Reflected in the Manding Song Repertoire." African Music 6 (2): 37–47.
Table One . . . includes the best known, most often heard, or otherwise significant songs in the [Gambian] repertoire. In each column the top few songs are the oldest, and the bottom few are the youngest. The majority in each case fall somewhere in between (often in the nineteenth century), but no chronological ordering beyond this is intended, since it is often not possible to date a song exactly. Most of the songs bear the name of their owner as the title. Where they do not, his name is shown in parentheses next to the title. The letter code at the right represents the person's "claim to fame" or calling in life, as shown in the bottom of the list.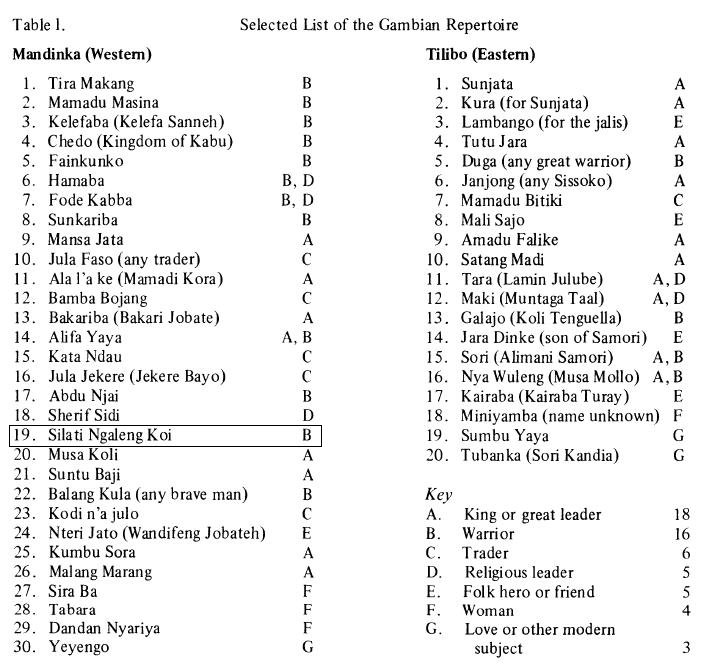 Table Two shows the same fifty songs again, grouped this time by the ethnic background of the people commemorated.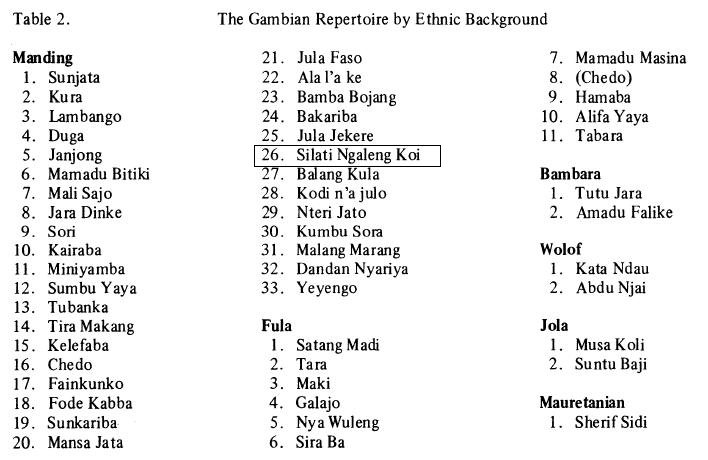 Konte, Bai. 1982. Konte Family Mandinka Music: Kora Music and Songs from The Gambia. Virgin, VX 1006.
Masaane Siise is also an arrangement of an older tune, called Silati Ngaleng after a great ruler of the last century. Masaane Siise, from a renowned holy family of Malian origin, was a wealthy trader from Bintang Bolongo (some 80 miles inland) who died soon after he got married. Bai sings, "Masaane Siise of Bintang Bolongo—Siise, the holy family from Mali! That's what life is like—you never know when you'll meet your end. Masaane's bride is crying, her husband is lying dead."
Jessup, Lynne. 1983. The Mandinka Balafon: An Introduction with Notation for Teaching. La Mesa, Calif.: Xylo.
Donkilo (on teaching tape)
| | |
| --- | --- |
| Silati Ngaleng ko a la Kumba Ngalengo | Silati Ngaleng said to his Kumba Ngaleng, |
| Silati Ngaleng ko a la Kumba Ngalengo | Silati Ngaleng said to his Kumba Ngaleng, |
| Doobaa mu jaajewo ti, | Common man is a jaajewo, (type of grass) |
| Ning a mengta i ye a tee. | When (it) is matured, you can cut it. |
| Bintang bolon daala Masani Ceesay | Masani Ceesay from beside Bintang Creek |
Background to "Masani Ceesay"
A poor fisherman named Bakari Nyominko lived at Bintang Creek. He wanted to marry a beautiful girl, but unfortunately a rich man named Masani Ceesay also wanted to marry her. Ceesay sent kola nuts to the family and they were accepted, so they were betrothed. Bakari went to a marabout and bought some jujus which the marabout told him to drop in the river when the marriage was announced. Bakari took his boat out into the river and when the bride was taken to Masani Ceesay's compound, he dropped the juju into the river. When she went inside Ceesay's house, he dropped dead. A kora player, in order to anounce Ceesay´s death, composed a song to the tune of "Silati Ngaleng."
Related information
Although this song is now dedicated to the unfortunate Masani Ceesay as outlined in the above story, it was originally called "Silati Ngaleng" and was dedicated to a great warrior by that name, who lived in the late 19th century. It was just within the last fifty years that the song was changed by Jali Wadifing Jobate. (Gambia News Bulletin 11/11/76)
"Silati Ngaleng" is part of a group of balafon songs that were traditionally played outside the patron's house, from the first cock's crow until sunrise, to entertain him before he got up.
pp. 146–59 (Appendix 2: Balafon Repertoire)
| | |
| --- | --- |
| Title | Silati Ngaleng |
| Translation: | Name |
| Dedication: | Same |
| Notes: | dev. into Masani Ceesay |
| Calling in Life: | Warrior |
| Original Instrument: | Kora |
| Region of Origin: | Manding (Western Coastal Region) |
| Date of Origin: | M (19th & 20th c. up to WWII) |
| Sources: | 1 (Jessup & Sanyang) |
| | |
| --- | --- |
| Title | Masani Ceesay |
| Translation: | Name |
| Dedication: | Same |
| Notes: | dev. from Silati Ngaleng |
| Calling in Life: | Folk hero, friend |
| Original Instrument: | Kora |
| Region of Origin: | Manding (Western Coastal Region) |
| Date of Origin: | M (19th & 20th c. up to WWII) |
| Sources: | 1, 3 (Jessup & Sanyang, R. Knight 1973) |
Knight, Roderic. 1984. "The Style of Mandinka Music: A Study in Extracting Theory from Practice." In Selected Reports in Ethnomusicology, vol. 5, Studies in African Music, ed. J. H. Kwabena Nketia and Jacqueline Cogdell Djedje, 3–66. Los Angeles: Program in Ethnomusicology, Department of Music, University of California.
There are a few pieces in the repertoire that are easily perceived as being in waltz time ("Masane Sise" and "Alifa Yaya"). Surely that feature (if not the melodies themselves) is a western importation, since waltz time is virtually unknown in traditional African music.
Kouyaté, Sory Kandia. 1999. L'épopée du Mandingue. Mélodie, 38205-2. Re-issue of 1973, SLP 36, SLP 37 and "Toutou diarra" from SLP 38.
C'est l'histoire d'un parvenu qui détourne la fiancée d'un pauvre cultivateur. Au soir de ses noces, il meurt. Une romance qu'on n'oublie plus...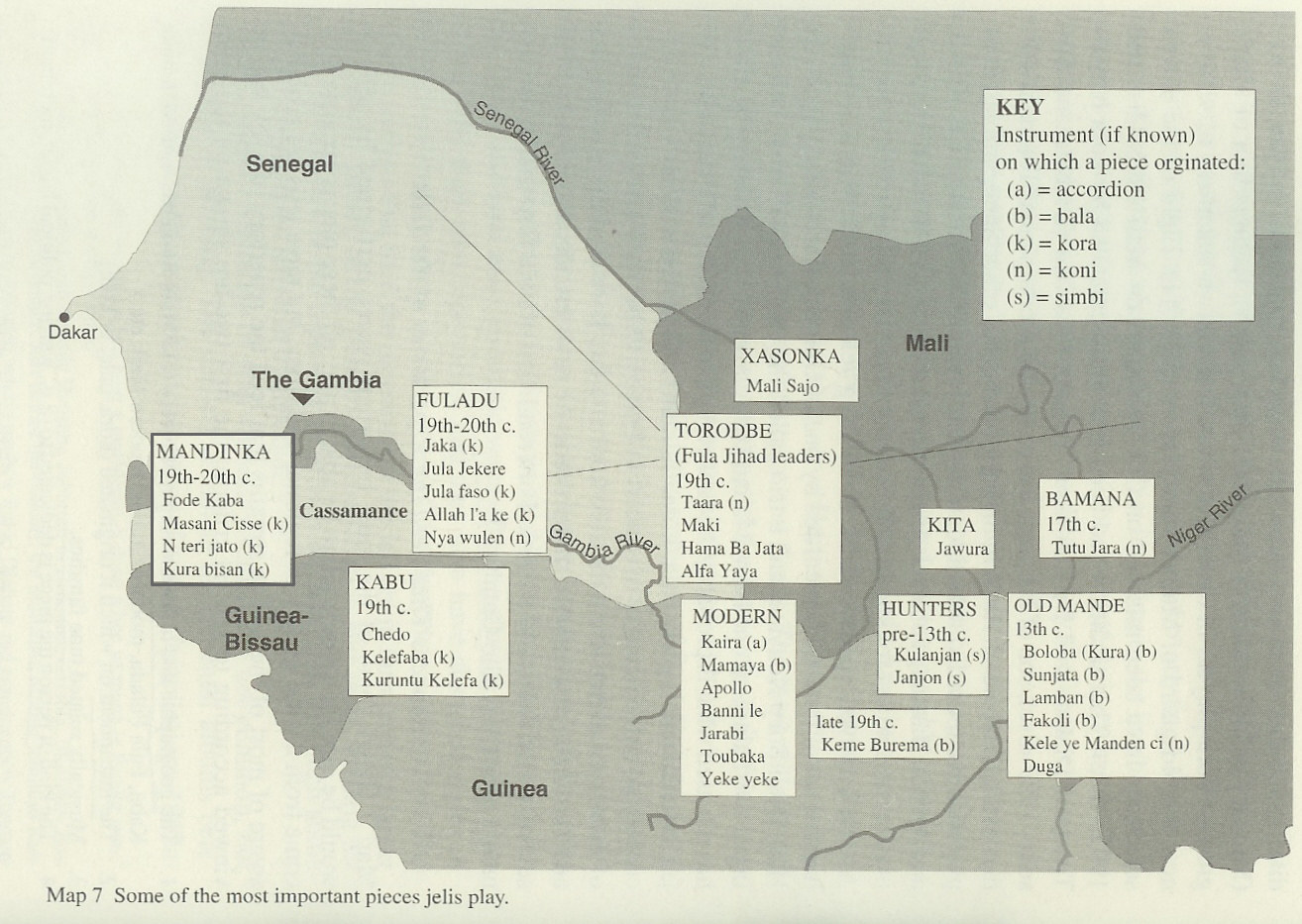 "A few pieces from the Gambia, such as Masani Cisse and Allah l'a ke, have also entered the repertory of Malians owing to their widespread popularity."
Bala Dounbouya, who grew up in the region of Siguiri (Guinea), spent much of his life in Bamako (Mali), and then moved to Senegal, plays some of the more prominent pieces from The Gambia and Casamance, such as Masani Cisse and Kelefaba (as well as the Senegalese national anthem). He prefers pieces from his native Guinea, but many of them are virtually unknown in Dakar where he lives and teaches. Conversely, many of the Senegambian pieces he plays are insignificant in Guinea.
Masani Cisse, another very popular piece in Senegal and The Gambia, is the name of a wealthy merchant who lived in the early twentieth century. According to Amadu Bansang Jobarteh, Cisse wanted to marry a beautiful young girl of his village, but she was already engaged to another man who was very poor. Cisse offered the girl's family great bridewealth, and she was forced to marry him. On the first night of the honeymoon Masani Cisse died before the marriage could be consummated. The musical accompaniment is commonly believed to derive from an older piece named Silati ngalen koyi.88
88. For an extended transcription and tranlation of the story of Masani Cisse (Maasaane Siise) by Yankuba Saaho, see Pfeiffer (1997:254–90)
Though he [Baaba Maal] is not a hereditary musician (griot), he has drawn on several pieces from the Jali's repertory, including Massani Cisse (1989-disc:Lamtooro) and Jula Jekere (1991-disc:Joulouwo).
pp. 398–401 (Appendix C: Recordings of Traditional and Modern Pieces in Mande Repertories)
Kora: Masani Cisse
Sory Kandia Kouyate ([1973] 1990)
Sekou Conde (n.d.a)
Quintette Guinéenne (Guinea Compilations 1976)
Jali Nyama Suso (1992-vid)
Habib Koite and Bamada (1999)
Ba Cissoko. 2003. Sabolan. Marabi.
The name of a rich merchant who thinks he can buy love and who dies on the day of the wedding. The kora embroiders a bluesy melody to illuminate this Mandingo legend.