tiriba
Keita, Mamady. 1989. Wassolon. Fonti Musicali, FMD 581159.
Rythme d'accueil des Bagas, population de la région côtière de Basse-Guinée.
| | |
| --- | --- |
| Kalum Kaiyo | Vous les habitants de Kalum |
| Foriyae khili tikhi | Les anciens on fait appel à tous |
| Gbasikolo konde bum | sous le fromager de Gbasikolo |
| Wo mameba | Avez-vous entendu mes amis? |
| M'boree yo | +...improvisation |
| Kalum khili tikhi | |
| Gbasikolo konde bum | |
| +... improvisation | |
Africa Soli. 1992. Salya: Roots and Rhythms from Guinea. Sango Music, CD SM007.
Satisfied with the good work they have accomplished, the fishermen come together in order to express their joy.
Blanc, Serge. 1997. African Percussion: The Djembe. Paris: Percudanse Association.
From the Susu ethnic group, originiating in the Boké region of Lower Guinea.

Traditionally, the tiriba is not played on the djembe but on smaller drums made of stretched deerskin with wooden corners.

It is played for circumcisions and also during the medicine men's important festivities and ceremonies.
Billmeier, Uschi. 1999. Mamady Keita: A Life For the Djembe—Traditional Rhythms of the Malinke. Engerda, Germany: Arun-Verlag.
Traditional Ethnic Group: Landuma; West Guinea, Boke & Boffa Regions
Over the course of its long history, the meaning of Tiriba has changes several times. Three phases can be identified.
In the oldest phase, a great dancer called Tiriba had assembled a group of percussionists and performed his dances. They called him Tiriba when he wore a particular costume. There are no more Tiriba dancers today but the rhythm is still alive and well!
In the second phase, Tiriba was played after the initiation of the girls, when mothers and daughters celebrated and danced together.
Today, in its third phase, the rhythm has become very popular and is one of the favorites at all festivities where people dance.
Forè Foté. 1999. Wonberé: Music and Dance in Black and White.
A welcoming rhythm from the Baga ethnic group located around Boké in the northwest part of Guinée. It is now played popularly throughout the country. The song, in Susu, praises the efforts of fishermen, encouraging them to continue their tireless work.
A sukhu khönöde tètè yèkhè sukhu khönöde ye ma.
A wanyo yandi-yandi nbaba awa.
Koumbassa, Youssouf. 1999. Wongai: Let's Go! Vol. 2. New York, NY: B-rave Studio/Youssouf Koumbassa.
Triba is coming from Guinea; village called (Guinea) Boké. Boké's ethnic people live there; they're called Baga people. Triba is coming from Baga people; it's for celebration dance.*
* Transcription mine.
Keita, Mamady. 2004. Sila Laka. Fonti Musicali, FMD 228.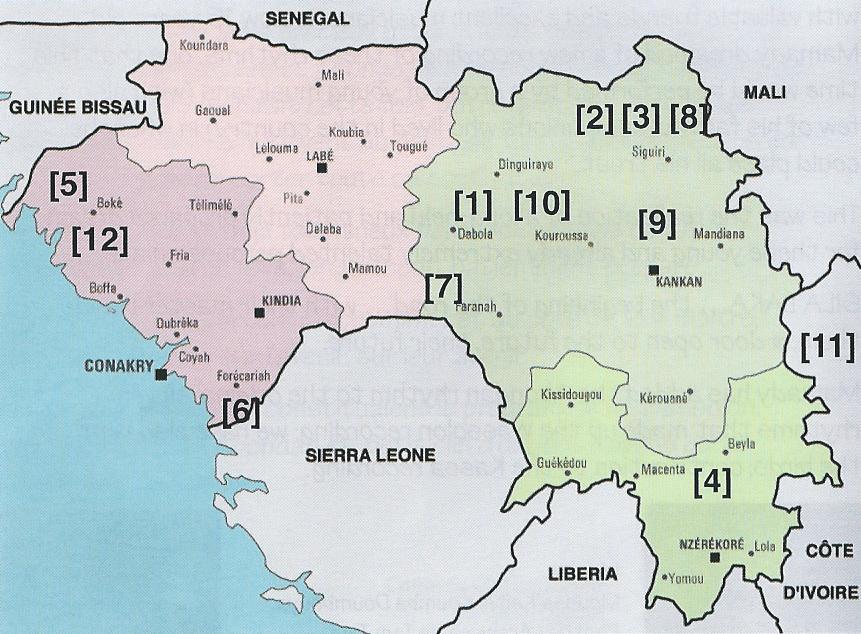 Tiriba: Djoliba. Landuma, Baga. Guinée occidentale (no. 12 on map)
Tiriba est un rythme encore populaire aujourd'hui, on le danse dans de nombreuses fêtes. Autrefois on donnait le nom de Tiriba à un grand danseur qui, rénissant d'autres danseurs et percusionnistes autour de lui, créait ainsi une troupe pour donner des spectacles.
En utilisant ce rythme pour célébrer le Ballet Djoliba, Mamady revient ainsi aux origines de cette tradition. Il improvise diverses paroles à l'intention des ancines et aussi des plus jeunes membres de ce Ballet.
La pluie se prépare, des trombes d'eau vont tomber,
Djoliba tunè a madima wunde nanma
Yalamba Djoliba foriye kha n'khaniba
The rains are gathering, masses of water will fall,
Que les sages de Djoliba m'emportent avec eux
Djoliba mayala Djoliba
Djoliba foriye kha n'khaniba
May the wise men of Djoliba take me away with them
Kienou, Amadou. 2004. Sya: Rhythmes de la Tradition du Burkina Faso. Felmay, FY8083.
Original composition which means "to move."
Tiriba comes from Boke. The Landouma is [sic] the people who play Tiriba. They play Tiriba for the big celebration. The traditional Tiriba they play just three djembes, no doundoun, no sangba, no kenkeni, because if you go to Boke, it's only three people playing, but the way we play on this DVD, we play like very contemporary tempo and the time too.
From the Landuma people in the region of Boké and Boffa in coastal Guinea.