bani (makhadi)
Ministère de l'information du Mali. 1971. Première anthologie de la musique malienne: 4. L'Ensemble Instrumental du Mali. Barenreiter Musicaphon, BM 30L 2504.
This song is dedicated to Sanunge Gimba Keita, a former head of district under Maranbugu, the traditional head of Kaba (today Kangaba). He was a great fighter against the French invaders.
He has said no,
Sanunge Gimba has said no!
And this refusal does not detract
Anything from his nobility.
He has griots (poets), Sanunge Gimba
The husband of Nansinin has griots
At Kaba and at Figira.
I am speaking of Sinbon,
Sinbon of Kaba and of Figira.
The rainy season for work,
The dry season for happiness...
L'Orchestre le Bida de la Capitale. 1977. L'Orchestre le Bida de la Capitale. Mali Kunkan, KO 77.04.19.
C'est le refus. Mieux vaut le refus que la trahison, dit un adage malien.
Diabate, Sidiki. 1987. Sidiki Diabate and Ensemble: Ba togoma. Rogue, FMS/NSA 001.
Ba togoma, 'Mother's namesake' is a term of endearment for any loved one. Composed by Djeli Mady, the song compares the old and the new social values of Manding society, and laments the loss of traditional customs: early marriage, land cultivation and hard work, traditional dress and Muslim prayer at the mosque. The song accompaniment is based on an old, popular tune called Bani, which comes from Kaba in the heart of Manding, and was originally played on the bala.
The griots play this tune to calm down the angry chiefs.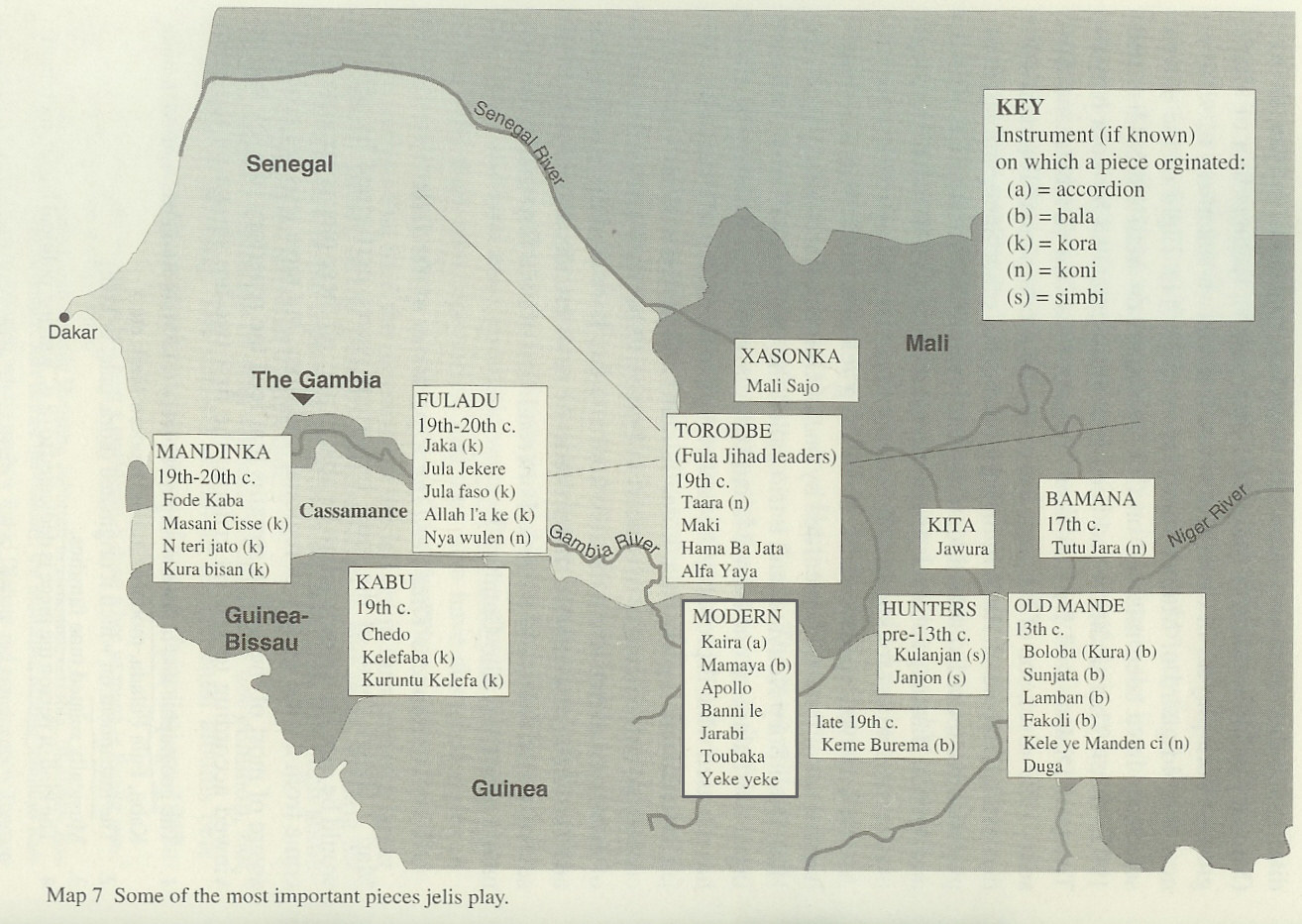 The Bani River is a great tributary to the Niger and has played an important part in the history of Mali. A legend is that when one dies, one has to cross the river to reach the land of the dead, but at the crossing is a man with a boat who won't let one through unless one goes back and pay all debts.
(Ma Kady / Ma Khady / M'ma Khady)
Composed by Fodeh Conteh, guitarist of the "Ballets Africains" in honor of his wife, a very beautiful woman, currently superior officer in the Guinean army.
Refusal.
"We must be steadfast in doing good and avoid doing evil. What one does on Earth will follow you, even into your grave." This song was dedicated to Sanougue Gimba, known for his determination to always tell the truth, whether to the ruling French, or to the People.