mamadou bitiki
Jessup, Lynne. 1983. The Mandinka Balafon: An Introduction with Notation for Teaching. La Mesa, Calif.: Xylo.
pp. 146–59 (Appendix 2: Balafon Repertoire)
| | |
| --- | --- |
| Title | Mamadu Bitiki |
| Translation: | Mamadu, the shopkeeper |
| Dedication: | Same |
| Notes: | praise song |
| Calling in Life: | Trader |
| Original Instrument: | Kora |
| Region of Origin: | Tilibo |
| Date of Origin: | L (after WWII) |
| Sources: | 1,3 (Jessup & Sanyang, R. Knight 1973) |
Knight, Roderic. 1983. "Manding/Fula Relations as Reflected in the Manding Song Repertoire." African Music 6 (2): 37–47.
Table One . . . includes the best known, most often heard, or otherwise significant songs in the [Gambian] repertoire. In each column the top few songs are the oldest, and the bottom few are the youngest. The majority in each case fall somewhere in between (often in the nineteenth century), but no chronological ordering beyond this is indended, since it is often not possible to date a song exactly. Most of the songs bear the name of their owner as the title. Where they do not, his name is shown in parentheses next to the title. The letter code at the right represents the person's "claim to fame" or calling in life, as shown in the bottom of the list.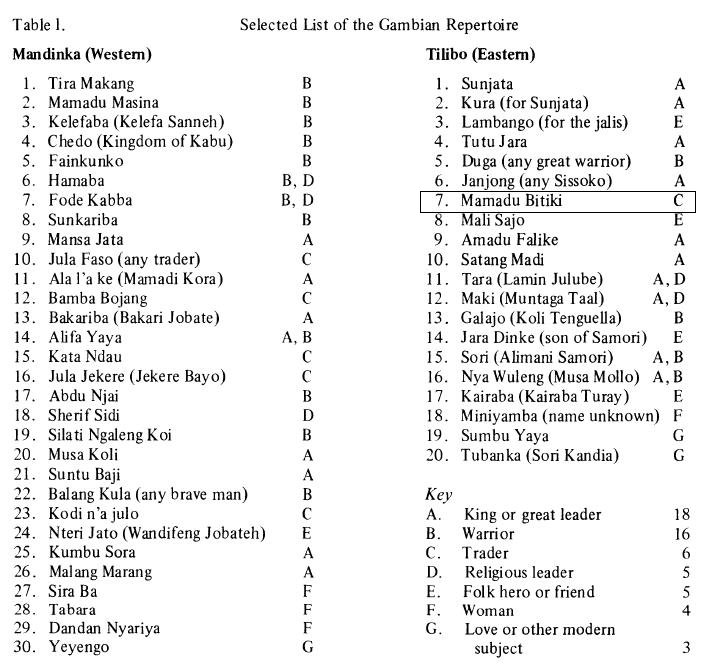 Table Two shows the same fifty songs again, grouped this time by the ethnic background of the people commemorated.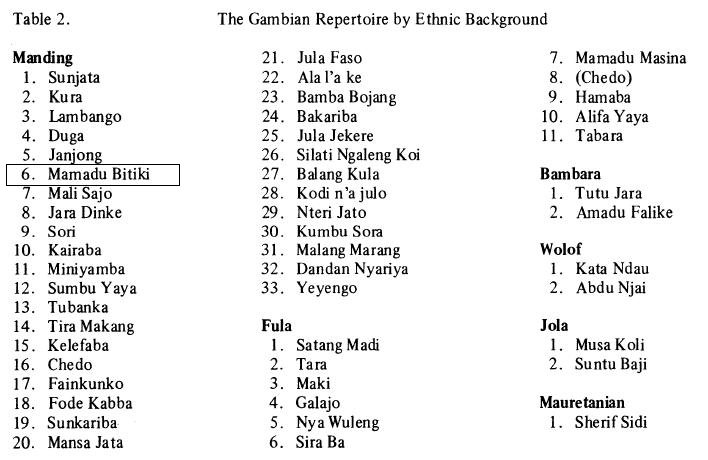 He was a very audacious man who dared appropriating the wife of the chief of the Kouroussa canton.
Kaba, Mamadi. 1995. Anthologie de chants mandingues (Côte d'Ivoire, Guinée, Mali). Paris: Harmattan.
On l'avait surnommé Mamadi Bitiki,
Ou "Mamadi Maison"
Grâce à sa maison
Unique au pays.
Et même les génies
Des savanes et forêts
Surpris et stupéfaits
Devant la célébrité
Qu'il s'était forgé,
Scandaient son nom
A l'unisson : "Mamadi Bitiki,
Notre meilleur ami".
1 Aux premières heures du régime colonial, un riche marchand fut le premier à se construire une maison en dur. On l'a surnommé "Mamadi Bitiki" ou ''Mamadi Maisonen dur". On lui dédia ce morceau qui fut fredonné partout. Mais malheureusement, Mamadi Bitiki par un revers de fortune, devint très pauvre et se mit à vendre du bois de chauffe. Quand il surprit une riche cliente fredonnant cette chanson, il lui déclina son identité et son passé en concluant que ce qui compte pour tout homme, ce n'est pas le départ, mais l'arrivée, c'est-à-dire la fin. Le mot bitiki est une déformation de boutique qui désigne la maison en dur. Ce morceau est un diagba.
see also:
Jansen, Jan and Mountaga Diarra. 2005. Entretiens avec Bala Kanté: Une chronique du Manding du XXème siècle. Leiden and Boston: Brill.