jaka
Knight, Roderic. 1982a. "Manding/Fula Relations as Reflected in the Manding Song Repertoire." African Music 6 (2): 37–47.
Jaka, which is a version of Hama Ba in a different tuning, . . . is usually dedicated today to Cherno Bande, son of Musa Mollo, the last king of Fuladu ("Fula Country") in The Gambia. In it the jali sings, "The Fula lunches on beef, he dines on beef, wealthy Fula." Though most of the inhabitants of Fuladu were and still are Fula, the Mandinka living there also contributed to the king's table, just as the Fula had done for their Mandinka overlords in Kabu.
Jessup, Lynne. 1983. The Mandinka Balafon: An Introduction with Notation for Teaching. La Mesa, Calif.: Xylo.
"Faringbulo" was the first piece of music that nine of the jalis [of the twenty interviewed] learned to play, "Lambango" was the first tune for four others. "Kelefaba" and "Jakaa" were learned first by two other jalis. In addition, ten of the jalis said they learned to play songs in a set order. Yet no two jalis listed the songs in the same order.
pp. 146–59 (Appendix 2: Balafon Repertoire)
| | |
| --- | --- |
| Title | Jaaka |
| Translation: | Sub-group of Mandinka |
| Dedication: | Cherno Bande |
| Notes: | similar to Hamaba |
| Calling in Life: | King or Leader |
| Original Instrument: | Kora |
| Region of Origin: | Manding (Western Coastal Region) |
| Date of Origin: | L (after WWII) |
| Sources: | 1, 3, 4 (Jessup & Sanyang, R. Knight 1973, R. Knight 1972) |
Kouyate, M'Bady, and Diaryatou Kouyate. 1996. Guinée: Kora et chant du N'Gabu, Vol 2. Buda, 92648-2.
A diminutive of Djankanté—an inhabitant of Dia, Mali.
"Djaka will go back to Dia". This piece is dedicated to great marabout Djankate Karan Walo who left Dia and travelled via N'Gabu to finally settle in Tuba, Guinea.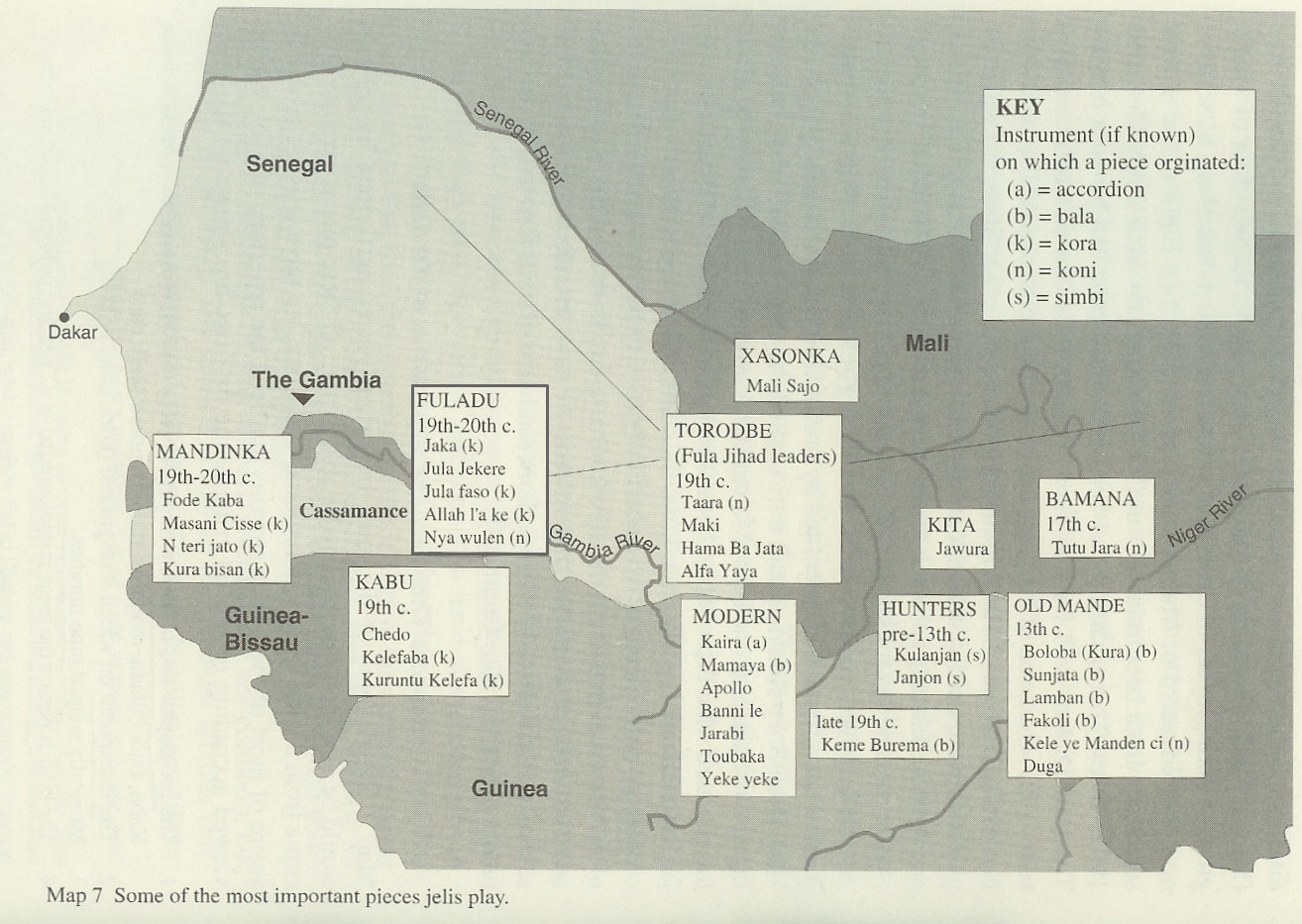 The parent-child relationship of some pieces is common knowledge and is readily talked about as such among many musicians: Saxo (Sacko) Dugu comes from Duga; Jula Jekere from Janjon; and Jaka from Hama Ba Jata.
Another example is provided by the pieces Hama Ba Jata and Jaka, which, according to Amadu Bansang Jobarteh and Sidiki Diabate, are played the same way but are distinguished primarily by the tuning in which they are played. Hama Ba Jata is played in Hardino tuning and Jaka is played in Tomora mesengo tuning. This is the only case I know of two pieces being distinguished in this way.
Diabate, Toumani, and Sidiki Diabate. 2014. Toumani & Sidiki. World Circuit, WCD087.
Jaka is a region in Guinea, home to the Jakhanké people who are renowned for their learning. "Knowledge comes from Jaka," go the lyrics, "and to Jaka knowledge returns."